Posted on:
Galbraith visioning session sets sights on potential modernization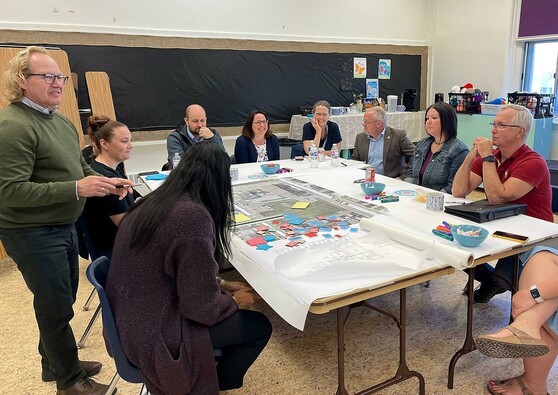 With planning funds from Alberta Education, Lethbridge School Division is hosting a two-day visioning workshop for Galbraith Elementary School.
The workshop helped generate thoughts and ideas for a potential modernization of the school. Currently, Galbraith is the Division's No. 1 modernization request in the 2022-2025 Capital Plan.
Over May 11-12, Trustees, Division administrators, school administrators and Galbraith teachers and parents are engaging in a visioning session led by Group 2 Architects to discuss what modernization possibilities exist for the school.
Participants are being asked to engage in big picture, outside-of-the-box thinking, with a focus on creative ideas that factor in the heritage of the Division's oldest school.
Today, consultants toured the school and visioning-session participants had the opportunity to experiment with building spaces, to imagine what learning spaces could look like in a modernization.
Day two will see participants discuss their proposed designs, consider design alternatives and dig into potential costs and constraints that may exist with some of the alternatives.
Group 2 Arch will then create a comprehensive report on the session, a report which will be provided to Alberta Education and Alberta Infrastructure.
A vision for Galbraith