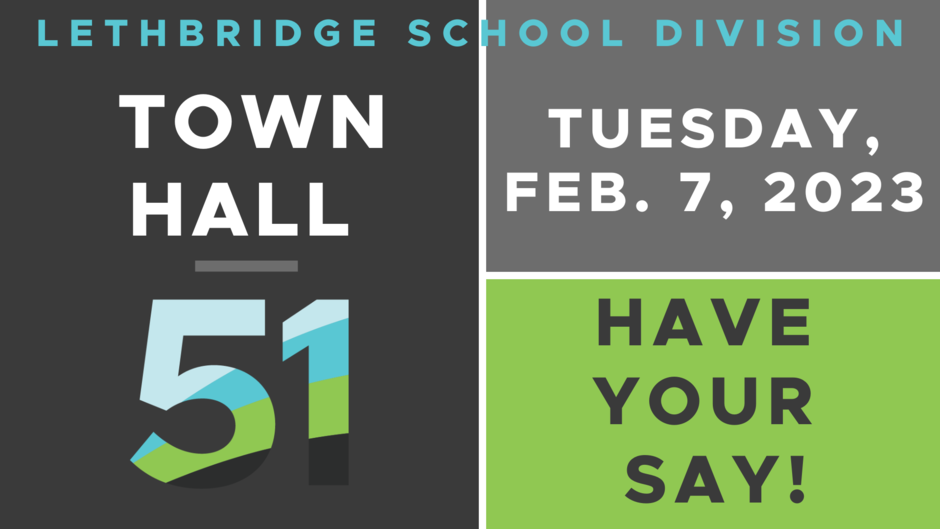 Town Hall meeting 2023
Town Hall 2023 is set for Tuesday, Feb. 7, 2023, at 6:30 p.m., in person, inside the gym at Victoria Park High School.
This year's Town Hall will focus on these two questions:
1. In what ways are we successfully supporting students to help them grow as learners?
2. Where do you see room for improvement in supporting students as learners?
Purpose
To obtain feedback from the parents, students, staff and community members about how the Division is doing with supporting student growth and achievement.
The Division understands different stakeholders have different perspectives.
The two questions found above will seek to gather those perspectives.
Feedback collected informs the Board Priorities and Strategies for the 2023/2024 Division Assurance Plan.
Examples from 2022's Town Hall
Town Hall 2022 Themes:
1. Inclusion was identified as an important area to strengthen (23 per cent students, 15 per cent parents, staff and community). Common areas included ensuring schools were safe-supportive/embracing of Indigenous students, all students of colour, LGBTQ2S+ and students with exceptional needs.
2. Learning - learning gaps calling for intervention/flexibility in meeting the needs of students, and provision of support for families (19 per cent of staff).
3. Wellness. The support of overall wellness, mental health and development of relationships and social skills (29 per cent of students, 20 per cent of staff, 10 per cent of community members.
Reflection of Themes in 2022/2023 Assurance Plan:
1. Understanding Context section of the plan. Student Growth and Achievement Domain (Outcome 3 Indigenous Ways of Knowing and Outcome 5 Respect for Uniqueness of All Learners). Outcome areas have strategies for anti-oppression and anti-racism, Positive Spaces Committee work with procedures for Policy 502.2 Sexual Orientation, Gender Identity and Gender Expression.
2. Student Growth and Achievement Domain including addressing learning gaps and a focus on intervention (Outcome 1 - strategies focusing on literacy and numeracy).
3. Mental health and wellness initiatives in the Understanding Context section of the plan (Wellness Committee, Wellness Grants, Wellness Promotion, Physical Education and Wellness Curriculum). Wellness Work Plan and Model, nature and outdoor learning, trauma-informed practices, nutrition included in the Student Growth and Achievement Domain (Outcome 4 - students and active, healthy and well). Additional support to counselling in the budget process (drawn from reserves).
Division Context
- 11,957 students (1,187 English Language Learners, 783 self-identified Indigenous students)
- 24 schools and a number of outreach facilities
- Programs: French Immersion, Montessori Alternative Program, Christian Alternative Schools, Spanish Bilingual Program, Limited Formal School Programs, International Baccalaureate Program, Dual Credit, Outreach Programs, Early Education, programs to support diverse learning needs
Next Steps
All of the ideas from Town Hall 2023 and website feedback loop will be collated.
The Board will review the information at the annual strategic planning session.