Keynote speaker selected for 2020 scholarship breakfast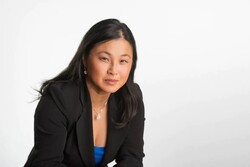 The 2020 version of the Canada 150 ICE Awards Scholarship Breakfast will be held Feb. 14, 2020 at 7 a.m. at the Sandman Signature Lethbridge Lodge. 
Judy Trinh, an award winning broadcast journalist, will be this year's keynote speaker. Trinh, a graduate of Winston Churchill High School, has been nominated for two Canadian Screen Awards and a National Magazine Award for feature writing.
She aims to tell captivating stories through print, broadcast and social media and does not shy away from controversial or complex issues.
Trinh has reported from disaster zones, investigated terror suspects and shone a light on sexual assault in the music industry and in work places.
She is committed to giving a voice to people who are marginalized and strives to be both critical and compassionate in her reporting.
Judy also mentors immigrant journalists and is a sought after speaker on social-justice issues.
Her family's experience is also woven into the Canada's proud history. In 2017, Judy's story of fleeing Vietnam inspired a Heritage Minute that marked Canada's humanitarian efforts on the nation's 150th birthday. 
In 2018, Trinh was inducted into the Winston Churchill High School Hall of Fame.