AHS Recommendations for Self Help
In tough times we can be more vulnerable to stress, worry, anxiety and depression. It's important to take care of ourselves. Tough times don't last. Tough people do. Traumatic or unsettling events, most of the time unexpected, can have a significant impact on your mental and physical health. Remember, it's normal to feel stress. Sometimes these stresses may not appear for weeks or months following an event. It is important to watch for warning signs.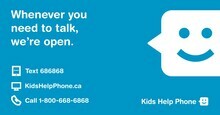 Kids Helpline
Some people get a little weirded out when they hear the word "counselling." That's OK. Basically, counselling is about talking to someone who knows a lot about many different issues that young people face. We think of counselling as a conversation with someone whom you can trust, who won't judge you, and who wants to help. Text, phone and live chat options are available. The website has a resource section to help you find local support in your area.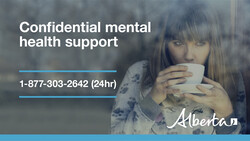 Mental Health Helpline 1-877-303-2642
Provides toll-free, 24 hour/ 7 days per week telephone service, which offers help for mental health concerns for Albertans.

confidential, anonymous service
information about mental health programs and services
referrals to other agencies if needed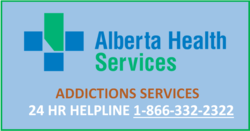 AHS Addictions Services Helpline 1-866-332-2322
Telephone advice and service referral for adults and youth requiring addiction services.
The Addiction Helpline is a toll free confidential service which provides alcohol, tobacco, other drugs and problem gambling support, information and referral to services. The Addiction Helpline operates 24 hour a day, seven days a week and is available to all Albertans.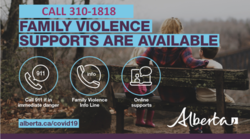 Family Violence Information Line 310-1818
Call 911 if you or someone you know is in immediate danger. Family violence is a crime.
Family Violence Information Line: anonymous support in more than 170 languages.
Family violence includes physical, verbal, emotional, financial and sexual abuse, neglect, stalking or being kept from seeing other people or forced to stay in one place.
Local Community Agencies Providing Counselling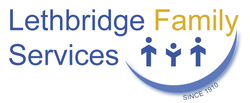 Lethbridge Family Services
Connecting with the Intake office is your first step in accessing counselling services. The intake office will complete an application process with you. This process may be completed, either by phone or in-person, through appointment only. Contact a member of the school wellness team should you need support.
1098 - 3 Ave. North Lethbridge  Phone: 403-327-5724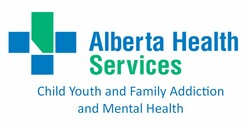 AHS Child and Adolescent Mental Health Program Mental Health
Provides care to children who have mental health concerns that affect how they function at home, in school, or in the community. AHS provides these services: help during crisis, seeing a psychiatrist, treatment (one-to-one, family, and group therapy) and referrals to community agencies if needed. Contact a member of the school wellness team should you need support. Melcore Centre- Room 120A - 200 4th Avenue S Lethbridge  Phone: 403-381-5278
Additional Resources

Anxiety Canada™ is a leader in developing free online, self-help, and evidence-based resources on anxiety.   VISION: A society where mental health is prioritized and free of stigma and prejudice  MISSION: Promote awareness of anxiety disorders and increase access to proven resources

NeedHelpNow.ca helps teens stop the spread of sexual pictures or videos and provides support along the way. If you or someone you know has been negatively impacted by a self/peer exploitation incident, we are here to help offer guidance on the steps you can take to get through it and #changethestory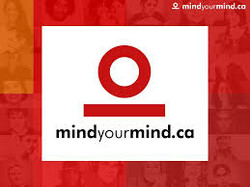 mindyourmind exists in the space where mental health, wellness, engagement and technology meet. We work with community partners and young people aged 14 to 29 to co-create interactive tools and innovative resources to build capacity and resilience.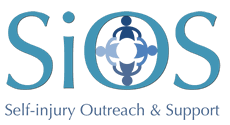 Self-injury Outreach and Support - As part of a collaboration between the University of Guelph and McGill University, we are a non-profit outreach initiative providing information and resources about self-injury to those who self-injure, those who have recovered, and those who want to help.