Posted on:
EEP Expression of Interest process will take place from Feb. 7-18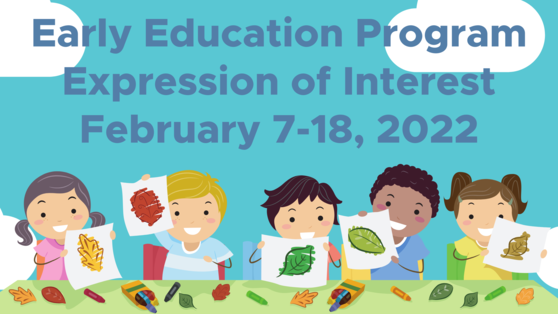 When the calendar flips to 2022, Lethbridge School Division is set to continue the registration process for Kindergarten and our Early Education Program.
An Expression of Interest process for the Early Education Program took place from Feb. 7-18 for school-location preferences. 
If you are interested in our Early Education Program but missed the Expression of Interest timeline, please contact Melinda Moore, Administrative Assistant, for Lethbridge School Division, for more information. Moore can be reached at melinda.moore@lethsd.ab.ca or 403-380-5385.
This Expression of Interest period is designed for first-year EEP students.
A lottery will be held to determine placement, and families will be notified by March 11 regarding their placement outcome.
EEP registration for returning students will take continue from Jan. 24 to Feb. 4.
The Division started accepting registration for Kindergarten on Jan. 17. Kindergarten is offered in each division school, and no fees are charged. Please contact your neighbourhood school for information on the registration process. To find your neighbourhood school visit the Transportation area on our website the click on the School Locator Package.
Students must be five years old as of Dec. 31, 2022 to register for Kindergarten. Children with an identified delay may be able to access programming earlier.
Our Division prides itself on Kindergarten programs with an early-intervention and child-centred focus.
Early Education Programs within the Division focus on supporting children with identified needs. Additional spaces are opened to the public as available. Early intervention is embraced through developmentally appropriate play opportunities and brain-based practices.