Posted on:
Westminster Elementary School principal, Angela Wilde, announces her retirement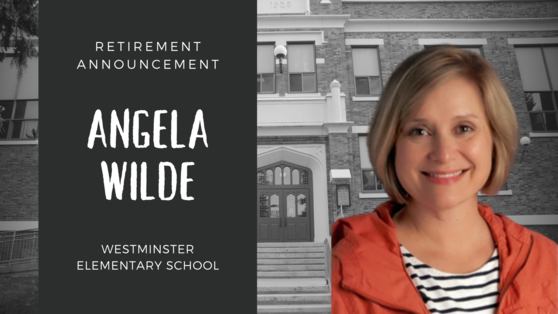 Congratulations and best wishes to Angela Wilde, who has announced that she will be retiring at the end of this school year.
Wilde has been steadfast in her commitment to those who need support her entire career as an educator, counsellor and school leader. Those who have worked with her have had the privilege of experiencing what it means to work with someone who models empathy, understanding and advocacy. Her passion and heart have made a difference to countless students, families and staff members. Her colleagues have always been able to count on Wilde to ask the right questions centred on what is best for all students. She has a strong moral compass that is admired by all those she has touched with her people-centered decision-making.
Wilde possesses a wisdom and understanding of student context that has allowed her to leverage a thoughtful approach to pedagogy in classrooms that are focused on meeting the needs of students where they are at. She has led Westminster through a significant renovation and the turbulent times of COVID in a manner that inspired vision and engrained a culture centred on overcoming external factors to serve the needs of students and families. She leaves a legacy imbued with the understanding that you do what is right for the right reasons.
Wilde began her teaching career with the Kainai nation in 1990. She taught at Lavern Elementary school for six years before moving to Lethbridge School Division as an Elementary Liaison Counsellor.   She moved to central office as the division Counselling Consultant while working as teacher counsellor at Hamilton Junior High and later G.S. Lakie Middle School. 
After seven years in this role, Wilde moved into school administration as an Assistant Principal at Winston Churchill High School. After 10 years of wearing the orange and blue, she moved down the street to Westminster Elementary School. 
Wilde has served as principal for the past six years and has come to love the community and students of this neighbourhood. This position has reminded her of the power of public education and the possibilities it creates in the lives of children. 
"High school graduations always come to mind when I meet new kindergarten students," said Wilde. "All the potential that shines in their eyes is impacted, shaped, nurtured and pruned during their school days. It is an honour to be a part of each young life that we serve, and we all have a responsibility to give them a positive, meaningful learning experience."
Wilde added she has been very fortunate to be a part of the learning community that is Lethbridge School Division. She is looking forward to "graduating" from her life at school and exploring what comes next with her family and friends.