Posted on:
Craig DeJong appointed principal for Senator Joyce Fairbairn Middle School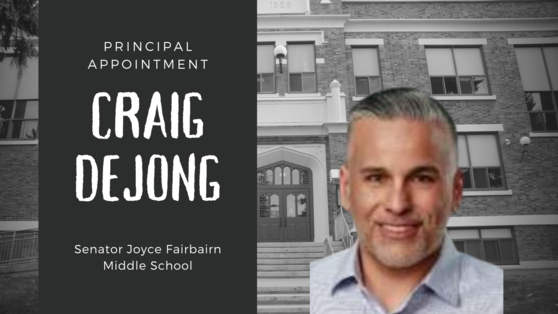 Lethbridge School Division is pleased to announce Craig DeJong has been appointed principal for Senator Joyce Fairbairn Middle School, commencing the 2021/2022 school year.
Recognized as a consummate community builder, DeJong will continue to build the community story of
our newest middle school. DeJong's leadership is characterized by an innovative mindset and
unwavering commitment to building the capacity of quality staff. He is student-centered and intentional in the development of relationships with students and families. DeJong thrives in contexts of growth and believes that furthering a robust school community while strongly supporting differences is critical to building a welcoming school where all students can be successful.
"I am very excited for the opportunity to work with the Senator Joyce Fairbairn learning community," said DeJong. "Fairbairn's pursuit of excellence and their commitment to all kids are just a few strengths that I will endeavor to continue leading and supporting. As Fairbairn is a newer school, I look forward to working with the dynamic staff to continue to foster engaging and innovative learning
opportunities for students. This includes continuing the outstanding work accomplished in the areas of literacy, numeracy, and technology integration."
"I would like to thank the staff, students, and families of Fleetwood-Bawden for endeavouring to make school a great place for kids to be each day," he added. "Together, we built a place where all kids could succeed and thrive."
He is also a strong believer in the power of pride, connection, energy, and enthusiasm.
"Students need
to be excited about going to school every day," said DeJong.
Currently the principal of Fleetwood-Bawden Elementary School for five years, previous administrative
experience includes vice-principal positions at Dr. Probe Elementary School and G.S. Lakie Middle
School. Highly regarded for his expertise, DeJong has also assumed a leadership role as a technology lead teacher, and has actively participated on a number of committees, provincially and locally.
Subsequent to obtaining a Business Administration Diploma and a Bachelor of Business Administration.
DeJong earned his Bachelor of Education at the University of Lethbridge. He furthered his education
through the Masters of Education degree at the University of Lethbridge with a focus on technology
integration.