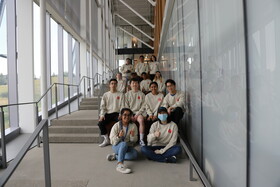 Lethbridge School Division students continue to play a key role on the Lethbridge HS iGEM team.
Last year, the team reached the pinnacle, and took home a major award after a prestigious trip to France.
"Our 2022 project, Dia-Beatable, received a gold medal in Paris last year," said the University of Lethbridge's Laura Keffer-Wilkes, who has been the primary investigator for the Lethbridge High School iGEM team program since 2018. "We were using a self-amplifying mRNA to deliver the insulin gene to diabetes patients, in order for them to produce their own insulin - similar to how the COVID mRNA vaccine works. We were able to collaborate with Dr. Anna Blakney, a lead researcher in SA-mRNA technologies, at UBC."
The gold at the iGEM 2022 Grand Jamboree in October of 2022 put the Lethbridge students in the spotlight, thanks in part to current and former Division students.
Members of the 2022 team included Amanda Dang (WCHS), Amber Quo (WCHS grad), Aubrey Nilsson (WCHS), Grace Cofell (LCI), Jayabhishek Chaudhary (Chinook), Karma Patel (WCHS), Lisa Sallah (Chinook grad), Marie Metz (LCI), Masataro Tatsuno (WCHS), Morteza Faraji (Chinook), Priyanshi Patel (LCI), Raiyana Shams (WCHS), Samreet Mutti (WCHS), Steven Yang (WCHS) and Zitong Wu (WCHS).
The 2023 iGEM season is also off to a strong start, according to Keffer-Wilkes.
"We received $2,500 in start-up funding through the MindFuel Tech Futures Challenge," she said. "We also competed in a project pitch competition and an iGEM skills workshop."
The project pitch competition was held as part of the Tech Futures Challenge (hosted by Mindfuel) on Feb. 25. The pitch video can be found here: TECH FUTURES.
Keffer-Wilkes added the 2023 iGEM project, ANA-lyze This, will attempt to create a rapid-diagnostic tool to detect anti-nuclear antibodies, which are increased in patients suffering from autoimmune disorders such as MS, arthritis and lupus, among others.
"We hope to create a bedside test that doctors can use to help diagnose patients, instead of the longer processing times for current methods," she said. "We will compete in a few more competitions this year in order to practice our project talks and win some money to support our team."
The team's goal now includes preparing for the 2023 Grand Jamboree in Paris, which is scheduled for Nov. 2-5.
"All iGEM teams can go to Paris but they have to meet certain requirements to be eligible for medals," said Keffer-Wilkes. "We have been the only Canadian high school team to compete internationally in the 2021 and 2022 seasons. We ask team members to cover their costs to travel to Paris, flight and accommodation, and we fundraise to cover the cost of the team registration. It is very expensive."
Alberta Women in Science Network (AWSN) provided the Lethbridge team with some funding last year, to send a deserving student to Paris that otherwise could not afford to go, she added.
As for the benefits of being involved in the diverse group of iGEM team members, Keffer-Wilkes mentioned students develop an impressive set of competences.
"Students learn so many different skills," she said. "All of our project websites are coded by the team. They learn all about project management, teamwork and leadership. They learn about market research, design and stakeholder engagement. They also learn wet lab skills that sets them up for success in university. It is a great program."
The 2023 team is made up of 20 students ranging from Grade 10 to Grade 12 from LCI, Winston, CCH and Chinook. Teachers Riley Kostek (Chinook) and Robert Balog (CCH) have both volunteered their time to help work with the team this year.
More information on the team can be found here: iGEM.