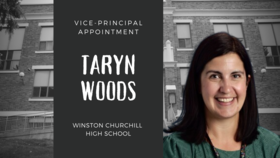 Lethbridge School Division is pleased to announce Taryn Woods has been appointed vice-principal at Winston Churchill High School, commencing the 2023/2024 school year.
Woods is a student-centred educator committed to student growth and equitable learning experiences. Her practice as an educator and leader is deeply rooted in caring and growth. Her combination of care and curious mindset when working with others, leads to strong connections with students, staff and parents. A flexible thinker and reflective practitioner, Woods possesses a strong understanding of pedagogy necessary to meet the needs of all students.
Woods has been teaching for 16 years, with 14 of those years teaching English language learners. She is excited to join the leadership team at a school that supports strong programs for English language learners, including a Limited Formal Schooling program. A great fit for the Churchill family, Woods believes in fostering a safe and encouraging environment for learning and engaging in trauma informed practice.
She is known to be highly empathetic and takes the time to recognize people as individuals with their own unique learning experiences.
"I am thrilled to be joining the Churchill family!" said Woods. "I am incredibly grateful for the opportunity to join WCHS's dynamic, skilled and growth-focused team. I look forward to building and strengthening relationships with students, staff and families in order to support students and their learning. I am eager to bring my enthusiasm and care to this fantastic school and to learn alongside this incredible community!"
Woods has been an English Language Learner instructor at Lethbridge College, a teacher at G. S. Lakie Middle School, and is currently serving students at Chinook High School. She earned her B. A. and B. Ed from the University of Lethbridge majoring in English and English Language Arts Education.
She completed TESL Certification through the University of Calgary and is currently working on her Master of Education in Educational Leadership with the University of Lethbridge. Woods will be a great asset to a school that is committed to addressing barriers and responding to student needs.