Posted on:
Division students participate in federal election through Student Vote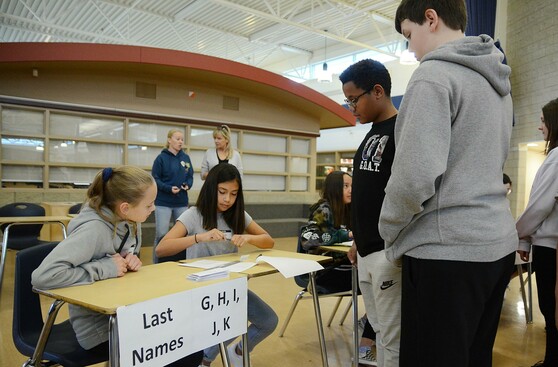 By Garrett Simmons
Communications Officer
Lethbridge School Division
This week across Lethbridge School Division, students had the opportunity to experience democracy in action.
A number of schools utilized the Student Vote program to help inform students and prepare them for voting day. At G.S. Lakie Middle School, that vote took place this morning.
"Student Vote is about giving the students an opportunity to learn about the election process and learn about the voting process, with the hope that when they turn 18 that they will not be apathetic but they'll get out there and exercise their right to vote," said Lakie teacher Tavis Newman.
Newman added the entire process has been an all-encompassing experience for students.
"Also a goal is for the students to become informed voters," he said. "Different social studies teachers have used different methods to help the students learn about the platforms of the different parties."
Videos, from the political party leaders themselves, were also used to help inform students.
"The Student Vote program had the opportunity for students across the country to ask questions they wanted to ask of the different party leaders, and then the party leaders responded to those questions with videos," said Newman. "With my grade 6 and 7 Social Studies students, I had them listen to the different party leaders' responses to those questions, so they could see which party their own values most aligned with."
Other students utilized online tools to assist in the process.
"The Grade 8 students used Student Vote Compass," said Newman. "A student version was made this time, so they went through those questions in the computer lab to see which party they were most aligned with."
At Lakie, the goal was to replicate, as closely as possible, the actual voting process.
"I have my Grade 6 social students running the polling station, because they are studying government in Grade 6, so it gave them an opportunity to learn about the process in an experiential way," said Newman. "They call down each of the classes and the students first come and see the information officer and they ask them what their last name is, and then send them to the correct station to get their ballots."
Poll clerks crossed student names off the official list at the school, handed out the ballots, instructed students to only choose one candidate and mark it with a "X" and then directed them to their voting screen.
"After they vote, they go and see the polling clerks who are in charge of the ballot boxes, making sure they stay secure," said Newman. "We try and run it as close to the real deal as possible to give them the experience and also educate them that voting isn't a scary or difficult process. They get to see how it goes so again, hopefully they won't be intimidated by it as an adult, and it's something they know about and will feel comfortable doing."
Even students as young as Grade 4 and Grade 5 participated in the democratic process. That included students at École Agnes Davidson.
"With Civix Elections Canada, we're really fortunate because they send a ton of great details out to us and we forward that on to our grade 4 and 5 teachers, and they engage in those conversations when they are dealing with current events and social studies, and students are truly prepared," said principal Broc Higginson. "They go through each of the platforms, look at each of the videos and they also have writing assignments that go home, and they have discussions with their parents as to each of the platforms and what aligns with their family values."
Higginson, whose school also held its election Friday morning, added it has been interesting to see how engaged the students became.
"The students, you can actually see them having discussions in the hallways and also talking about how it is a personal choice, and not something you need to discuss with anybody if you don't feel comfortable about it. It's been pretty incredible. We even had a student that said, 'I don't feel comfortable making a decision yet, I don't have enough information,' so that was pretty neat."
The results from students votes from the across the country will not be made available until after the official polls close Monday night. Over one million students are expected to cast ballots.
The last student vote, which coincided with the 2015 federal election, saw the Liberals capture 37.61 per cent of the vote, followed by the Conservatives at 25.98 per cent and the New Democratic Party at 19.64. The Greens secured 12.03 per cent of the student vote.
Student Vote Canada 2019