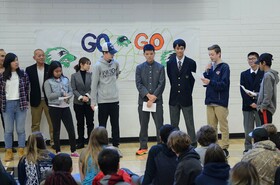 By Garrett Simmons
Communications Officer
Lethbridge School Division
Ten students from Okinawa, Japan are at Wilson Middle School this week as part of a cultural exchange.
On Monday morning, the students were welcomed to Wilson with a quick assembly, as Grade 8 students introduced the visitors. The Japanese students then had an opportunity to spend time in Grade 8 classrooms to get a taste of what the education system looks like in Canada.
"This is a partnership we've had for the last 10 years," said Wilson principal Dean Hawkins. "I was fortunate enough to go to Okinawa three years ago. We haven't had the opportunity to bring students from our school yet, but hopefully one day."
Hawkins added the short visit for the Japanese students to Wilson will wrap up Wednesday.
"They like to come for a couple of days, learn some English and see how our school runs compared to their school division."
Students from Japan have visited Wilson before, but now have the opportunity to tour the middle school, post-renovation.
"This is the first time they get to see our renovated school," said Hawkins. "They were here through the modernization with us, so this is a pretty good opportunity for them to see what it looks like now."
On Wednesday, the Japanese students will make a one-hour presentation, to share a bit more about their school and their culture. Hawkins added that presentation represents a major learning opportunity for his students.
The 10 Japanese students visiting Wilson range in grade from Grade 7 to Grade 9.   
Japanese students visit Wilson