Posted on:
Special guests visit Agnes Davidson to raise awareness about Down Syndrome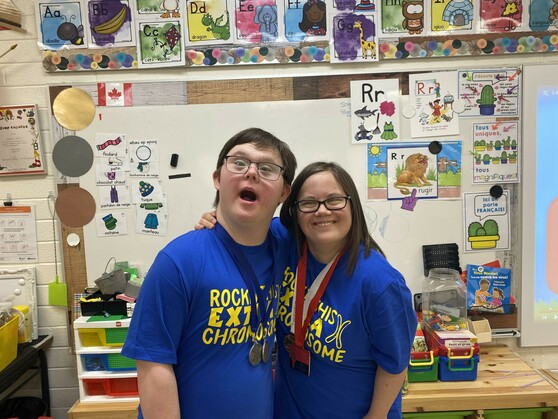 Brielle Gauthier and Brayden Strong visited École Agnes Davidson on March 21 to assist students in recognizing and raising awareness for Down Syndrome.
Gauthier and Strong visited numerous classrooms, as students listened to the duo share their stories.  Gauthier is a Special Olympics athlete and has won many awards for her swimming and bowling. She was even invited to represent Canada in the Beijing Special Olympics. Strong's favourite sports are basketball, swimming and golf. He has won two medals in swimming and even qualified for the nationals.  "Our students were very fortunate to get to ask Brielle and Brayden questions about their favourite sports, the challenges they face as athletes and their successes," said Megan Cummins, the school's vice-principal. "This learning opportunity was a win/win for Brielle, Brayden and our students. Brielle and Brayden loved being around our students and sharing their stories with us and our students benefited from learning more about Down Syndrome and the meaning behind Silly Socks for Down Syndrome."