Posted on:
Kathy Mundell appointed principal at Fleetwood-Bawden Elementary School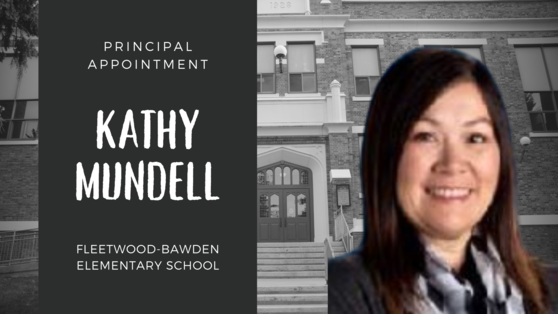 Lethbridge School Division is pleased to announce Kathy Mundell has been appointed principal at Fleetwood-Bawden Elementary School, commencing the 2022/2023 school year.
Mundell is a vibrant leader who is experienced, knowledgeable, and passionate about ensuring school culture is positive, welcoming, and healthy.
Her career path has set the foundation for success as a principal at Fleetwood-Bawden. As a primary level elementary teacher she was considered a master teacher and leader of effective practice in the area of literacy. She has assumed the role of a Learning Support Teacher and gained an in-depth understanding of pedagogy that is structured to meet the needs of all students. Mundell has been a vice-principal at the elementary and middle school levels where she gained expertise in building staff capacity, inclusion, planning and delivery of professional learning, and engagement of students and parents to build a strong community. Her current role as the Division's Counselling Coordinator has been instrumental in building her knowledge regarding community support networks and wellness.
Mundell is known to be positive, energetic, and kind. She is a relationship builder who loves children and knows how to get them excited and engaged in learning. Mundell is looking forward to working with staff on building capacity with Thinking Classrooms that structure learning to allow all students to access learning in meaningful ways. As an educator who taught at Fleetwood Bawden, she is familiar with the Montessori program and looks forward to continuing to support this program.
"It is an honour to be selected as the principal of Fleetwood-Bawden," said Mundell. "I look forward to the opportunity to serve the students, staff and families of Fleetwood-Bawden. After spending the first eleven years of my career at Fleetwood, if feels like I'm returning home. I am honored to be joining an incredible staff who are known for their highly restorative and inclusive practice. I look forward to being part of a community that is strength based, embraces and celebrates diversity, and is committed to being better humans every day."
Mundell has been a classroom teacher, learning coach, and learning support teacher at both the elementary and middle school levels. She has assumed vice-principal positions at Gilbert Paterson Middle School and Nicholas Sheran Elementary School, and has been the Counselling Coordinator for the Division for over two years. Mundell possesses a Bachelor of Arts and B. Ed. Degree followed by a Masters of Education focusing on Leadership and Administration.