Posted on:
Sharon Willms-Laing appointed vice-principal at Senator Joyce Fairbairn Middle School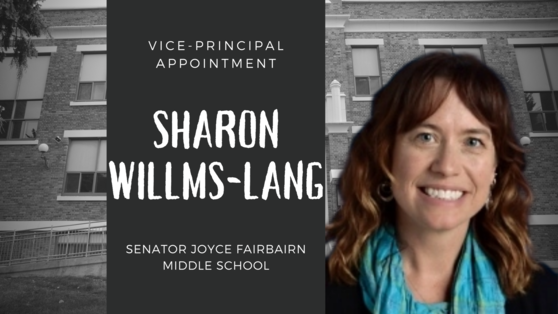 Sharon Willms-Laing appointed vice-principal at Senator Joyce Fairbairn Middle School
Lethbridge School Division is pleased to announce Sharon Willms-Laing has been appointed vice-principal at Senator Joyce Fairbairn Middle School, commencing the 2023/2024 school year:
Willms-Laing's leadership style is a wonderful combination of positivity, determination and deep knowledge of effective instructional practice. She is a straight shooter and someone who walks the talk with staff and other school community members.
She will always roll up her sleeves and work side-by-side with anyone who needs support at any given time. Willms-Laing possesses an honesty and transparency that is disarming and genuine. She is known for her ability to create trusting relationships because she approaches her work through the lens of understanding and appreciating the world view of others.
Some of her passions are to honour diversity in thinking, enrich curriculum knowledge and create an inclusive environment.
Willms-Laing believes that all students have strengths, are worthy of a safe and caring school environment and deserve a teacher and administrator that cares for them. A student-focused educator who believes in building strong relationships as foundational to successful practice, Willms-Laing is dedicated to the community of learners she serves.
"I am excited and honoured to join the leadership team at Senator Joyce Fairbairn," said Willms-Laing. "It will be a privilege to collaborate and work alongside the fantastic staff as they continue their dedication to excellence in numeracy, literacy and inclusion. I am looking forward to building relationships with the students and families at SJF. I believe in creating a strong inclusive learning environment where all students can find belonging and success. Thank you for welcoming me into your school community!"
Willms-Laing has a breadth of experience as an educator at Division I and II levels, as well as Learning Support Teacher. She has assumed the role of acting vice-principal at Dr. Probe, was a member of the Response to Intervention Team at Fleetwood-Bawden, and is currently serving as vice-principal at Park Meadows Elementary School. 
Willms-Laing completed her B.A. and B. Ed through the University of Lethbridge. She earned her Masters of Education graduate degree in Multiple Literacies in Canadian Classrooms with the University of Lethbridge.