Posted on:
Jeni Halowski appointed principal at Westminster Elementary School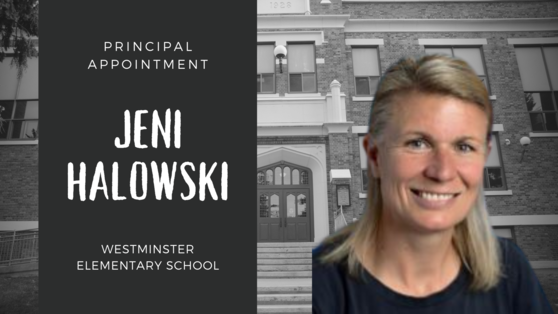 Lethbridge School Division is pleased to announce Jeni Halowski has been appointed principal at Westminster Elementary School, commencing the 2022/2023 school year.
Halowski has demonstrated that she is unwavering in doing whatever it takes to meet the needs of students, staff and the school community. She has a deep sense of empathy and never fails to model the moral imperative of a leader who is people-centred. She is incredibly knowledgeable in the area of inclusive education and instructional practice that supports learning for all students with universal strategies.
Possessing the belief that shared leadership creates an environment conducive to learning and growth for all, Halowski strives to create a culture in which distributed leadership is valued and encouraged. All members of the school community are respected and valued. Halowski has demonstrated that she takes the time to build relationships with students, parents, staff, and community members. She knows who students are and cares about nurturing trust and building student confidence. She recognizes the importance of a school community that is united in purpose. Over the years, Halowski has been active in planning and delivering professional learning at division and school levels. She is a leader who is able to walk the talk and model learning. She learns new skills through a growth mindset, supports others in building capacity, and is eager to accept new challenges.
"I am hounoured to have the opportunity to serve and work with the Westminster Elementary School community as principal," said Halowski. "Westminster's dedication to providing excellence in student learning and their commitment to provide a rich and caring learning environment are a few of the strengths I will strive to continue leading and supporting. I look forward to working with the staff to continue their outstanding work in the areas of literacy, numeracy, and inclusion. I am excited to establish relationships and collaborate with the students, staff, parents, and community partners of Westminster School."
Halowski has been an educator in Lethbridge School Division for 16 years as a teacher, administrator, and coach. She is energetic, driven, and believes in engaging students in opportunities outside of regular curriculum. She has been a vice-principal/ assistant principal with positions at G. S. Lakie Middle School, and most recently Wilson Middle School for six years.
Halowski has a Bachelor of Physical Education from Mount Royal College, a Bachelor of Science and Education from the University of Lethbridge, and earned a Master of Education in Neuroscience and Inclusive Education from the University of Lethbridge.