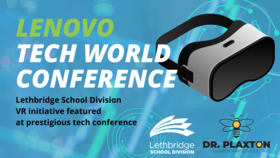 Lethbridge School Division Director of Technology, Jesse Sadlowski and Dr. Robert Plaxton Elementary School and vice-principal, Andy Tyslau, were presenters at the prestigious Lenovo Tech World '22 Conference.
The largest tech conference in the world, with sessions accessible online, featured a presentation from Sadlowski and Tyslau that put a focus on how Division schools are leveraging technology to empower equitable access.
Dr. Robert Plaxton has been a forerunner with using technology for immersive learning experiences that take students to places they may never get to see in person, as VR classrooms with virtual experiences are bringing curriculum alive.
The Division has also launched into eSports, as the organic growth of the sport has met with high levels of student engagement.
Sadlowski and Tyslau also recorded a video with Christine Stellar-Foss, general manager of Education Solutions for Lenovo.
The video can be found here: LENOVO.