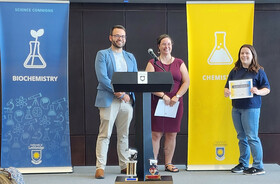 A Chinook High School student has taken home an award for winning the Best High School Poster Award at the 16th Annual Chinook Symposium for Chemistry and Biochemistry at the University of Lethbridge.
The Chinook Symposium is the annual student research conference hosted by the Chemistry and Biochemistry Department.
Students from all levels present posters at the event, as Stevens presented her research, A Computational Study of the Structure and Base-Pairing Properties of Safrole Guanine Adducts, which she conducted over the summer in the Wetmore lab at the University. Safrole is a common flavouring agent in e-cigarettes.
She completed her work as part of the High School Youth Researcher Summer program this summer in Dr. Stacey Wetmore's lab.
The presentation from Stevens impressed the judges, who commented, "Alison was confident in her presentation and showed a real passion for her research. She was able to clearly explain her hypothesis and the steps she went through to test it."
More information on the symposium can be found here: SYMPOSIUM.