Posted on:
Aaron Fitchett appointed principal at Nicholas Sheran Elementary School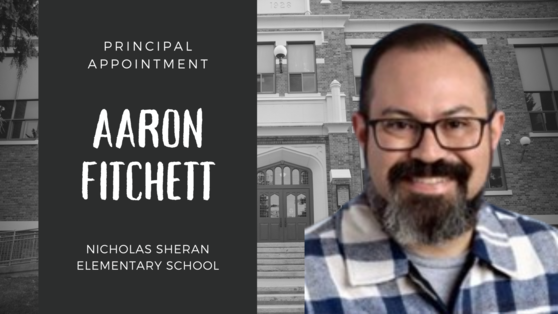 Lethbridge School Division is pleased to announce Aaron Fitchett has been appointed principal at Nicholas Sheran Elementary School, commencing the 2023/2024 school year.
Fitchett has demonstrated his actions are always aligned with his objective of working with students, families, staff and the community to frame a collaborative network that supports students. He is unwavering in holding student learning, growth and achievement as central to decision making. It is his belief that modeling student-centred approaches will focus and enhance school culture, promote inclusion and diversity and serve the broader school community. 
Fitchett's leadership at Nicholas Sheran will enhance a school community that emphasizes inclusive, safe and positive learning environments each day. His belief in the achievement, value and potential of all students will support the core values of the school. Aaron is a connector with humility, wisdom and insight. His care for students and their wellbeing runs deep and he has demonstrated the capacity to go above and beyond to meet the needs of students and families.
Fitchett's career as an educator in Lethbridge School Division began at Westminster Elementary School, and then he assumed a position at Senator Buchanan Elementary School. After teaching at Buchanan for a number of years, he served the school community as vice-principal.
Fitchett is a master teacher who has a rich understanding of effective instructional practice. He is a strong instructional leader who commits to providing educators with the support they need for success in the classroom.
Following his elementary classroom and leadership experience, Fitchett assumed his current role of vice-principal at Winston Churchill High School. This role has provided experience in working with a leadership team to create a new vision and mission, expand the meaning of inclusive education, re-imagine the student leadership structure, support staff with inquiry based professional learning, provide instructional supervision, oversee work with the Numeracy Committee and supervise different academic departments such as of Social Studies, Mathematics, English and Modern Languages. A consummate professional, Fitchett has contributed to the profession and learning across the community with his work on Division committees, community organizations and Alberta Teachers' Association. 
"I am humbled to join the students, staff and families of Nicholas Sheran Elementary School as they learn, grow and play on the traditional territory of the Blackfoot Confederacy and the Indigenous peoples who are deeply connected to this land we all call home," said Fitchett. "I am excited to work alongside such a dedicated, compassionate and inclusive staff who are committed to building strong relationships for the purpose of learning. This school community, with its focus on shared vision and core values, is prepared to approach new challenges and opportunities with purpose, self-awareness and reflection. I am honoured to serve as principal as we support the inspired, innovative and resilient leaders within every child at Nicholas Sheran Elementary School."
Fitchett earned his Bachelor of Arts Canadian Studies at the University of British Columbia and his Bachelor of Education majoring in Social Studies from the University of Lethbridge. He is in the final stages of completing his thesis and requirements for the Master of Education degree in Education Leadership from the University of Lethbridge.