Posted on:
Dashboards provide another level of financial transparency for Division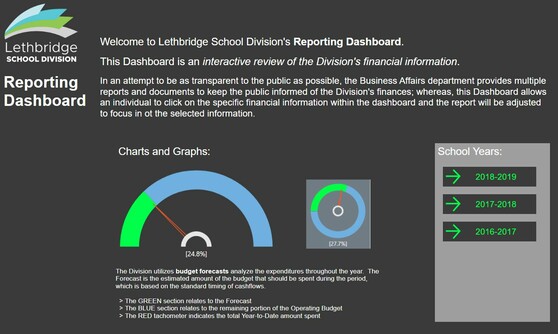 Lethbridge School Division is increasing transparency in its financial reporting through the creation of a new financial reporting dashboard.
Found on the Division's website in the Financial Reporting section, the Financial Dashboards provide an interactive review of the Division's financial information. Those interested in learning more about the Division's finances can click on the specific financial information within the dashboard. The report will then be adjusted to focus in on the selected information.
The dashboard brings together a wealth of financial information and combines 20 different reports into a one-stop shop.
Information from the 2016/2017, 2017/2018 and 2018/2019 school years can be found, as users can drill down and examine expense types and programs. Comparisons between financial quarters can also be made, along with comparisons between quarterly reports and year-end reports.
Clean, crisp graphics and a user-friendly interface make it easy to locate financial data in a wide variety of areas and categories.