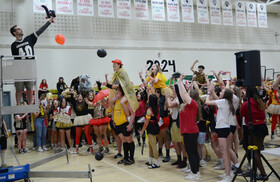 Today's Yote Day at Chinook High School kicked off with the recording of the school's famous Lip Dub video.
The program continued with a drum line, Chinook's traditional chariot races around the gym and pin presentations that recognized students who were involved in four or more activities throughout the school year. 
Other activities included fine arts and musical performances, along with award presentations. 
Yote Day 2023