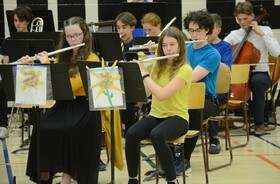 On Thursday evening, Gilbert Paterson Middle School hosted a special band concert.
Grade 8 Paterson band students and the Troyanda Ukrainian Dance Club came together for A Fundraiser for Ukraine Concert, directed by the school's band teacher, Karly Lewis.
The program opened with the Canadian and Ukrainian national anthems, and included numerous musical numbers and dance performances.
Fundraiser for Ukraine