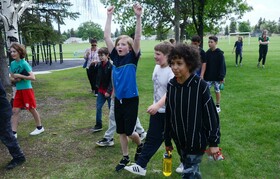 On Thursday afternoon, Lakeview Elementary School Grade 5 students welcomed some old friends back to the school.
Lakeview hosted a park/picnic event for the Dr. Robert Plaxton Elementary School Grade 5s. The event was a reunion of sorts for the Grade 5s, as they collectively get ready to venture to Gilbert Paterson Middle School. 
"Lakeview invited Dr Plaxton's Grade 5 class over, as our Grade 5 class often speaks of how they miss their friends from both Agnes Davidson and Plaxton," said Lakeview vice-principal Melanie McMurray. "Our students were beyond excited about hosting their 'old' friends."
That excitement was apparent, as the students raced to greet each other as soon as the Plaxton students approached the Lakeview playground!
Picnic party