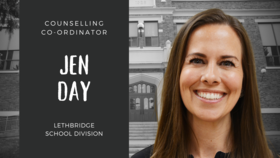 Lethbridge School Division is pleased to announce Jen Day has been appointed Counselling Co-ordinator for Lethbridge School Division, commencing the 2022/2023 school year.
Day has a tremendous depth of professional experience as a teacher and counsellor. Her relational, thoughtful approach will assist her in her new role in the Division of Instructional Services. She is highly respected among her colleagues and has been a valuable support navigating and applying the Violence Threat Risk Assessment process through the years, as she has worked in the capacity of counsellor in Lethbridge School Division.
Day began her career as a teacher and has experience in elementary, middle and high school. As a teacher, she discovered she held a deep commitment to students' emotional wellbeing, so she pursued a Master of Counselling to formalize her natural counselling skills. She has worked as a counsellor in both clinical and educational settings, and has experience working with children, youth and adults.
Day served as a Teacher Counsellor at General Stewart Elementary School and is currently assigned to Immanuel Christian Secondary School.
Her teaching and counselling experience has equipped her with a deep understanding of the difference in needs and experiences of schools at the varying levels. Day offers a clinical and educational lens as a consultant and is an accredited VTRA trainer. 
"It is an honour to be selected as the Co-ordinator of Counselling for Lethbridge School Division," said Day. "In my years with the Division, I have had the privilege of working with Wellness Teams at each level and have witnessed their unfailing commitment to the wellbeing of students and staff. I believe wellness is foundational to learning, and it is a gift to work with teams that are dedicated to meeting the social-emotional needs of our students. I look forward to connecting and collaborating within the broader school community."
Day possesses a Bachelor of Arts and B. Ed. Degree followed by a Masters of Counselling, awarded by the University of Lethbridge.