Posted on:
Jackie Fletcher appointed principal for Fleetwood-Bawden Elementary School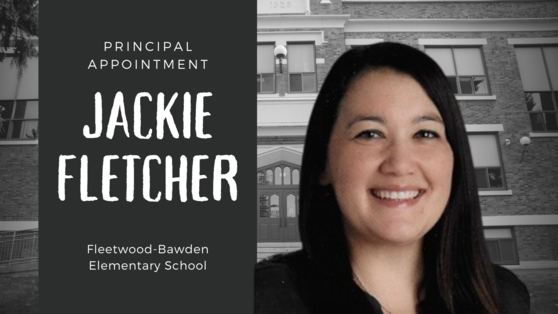 Lethbridge School Division is pleased to announce Jackie Fletcher has been appointed principal at Fleetwood-Bawden Elementary School, commencing the 2021/2022 school year.
A passionate educator, Fletcher's journey as a teacher and leader is a perfect fit for Fleetwood-Bawden Elementary School.
Her seven years as a Kindergarten/Early Literacy Teacher accentuated the importance of the early years. A certified Montessori teacher, Fletcher recognizes children learn best from exploration, curiousity and collaboration. In her role as a Learning Support Teacher, she developed a deep understanding of meeting the needs of all students and recognized the power of working collaboratively with colleagues to coordinate supports for students.
Her role as a vice-principal at two elementary schools provided Fletcher with the experience of creating and maintaining a culture that embraces students, building capacity within others, connecting with school community, and responding to the needs of students and families.
"I am beyond excited to serve the Fleetwood-Bawden community as school principal," said Fletcher. "Continuing to learn and grow with the students, staff and families of Fleetwood-Bawden Elementary School is an honour. Fleetwood's focus on inclusive practices, student achievement, collaboration and innovation, makes it a wonderful place for all to experience growth and success. I hope to continue down this path of excellence and look forward to nurturing a safe and welcoming environment for all.  Working along side the staff of Fleetwood-Bawden and striving to provide an excellent experience for our students, is an opportunity that I am grateful to have and will endeavor towards leading with enthusiasm, energy and love. I am very proud of Fleetwood and am committed to supporting our school community in making each day a great one."
Fletcher has a breadth of experience as an elementary teacher, was vice-principal at Park Meadows elementary school and is currently serving as vice-principal at Fleetwood -Bawden Elementary School. Active as a professional contributing to the growth and development of others, she is a regular presenter with the Teacher Induction Program, has served as a mentor for teachers and administrators for over 10 years, was a representative on the division professional learning committee and was an AISI Lead Teacher for her school when the initiative was launched in the division.
Fletcher obtained her Bachelor of Education from the University of Lethbridge. She earned her Masters of Education in 2020 from the University of Lethbridge.
Fleetwood-Bawden Elementary School will truly benefit from her leadership, expertise, commitment, and energy.