Posted on:
Spanish Bilingual Kindergarten registration at Coalbanks begins March 1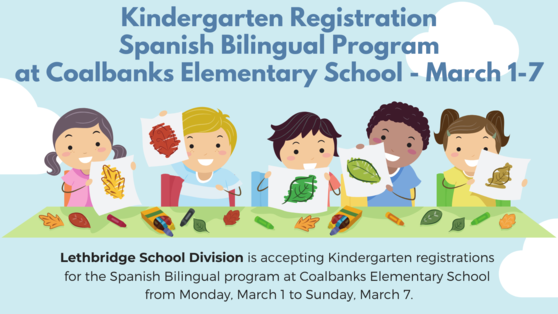 Lethbridge School Division is accepting Kindergarten registrations for the Spanish Bilingual program at Coalbanks Elementary School from Monday, March 1 to Sunday, March 7.
Spanish Bilingual programming establishes an environment where English and Spanish are used for the purposes of communication and learning. Students have numerous opportunities to learn and use both languages in meaningful and purposeful ways.
Students must be five years old as of Dec. 31, 2021 to register for Kindergarten.
Registration forms must be emailed or dropped off to the school prior to March 7. Forms can be found on the COALBANKS WEBSITE or at the school office.
There are 52 available spaces in the Spanish Bilingual kindergarten program. If Coalbanks receives more registration forms than spaces, placements will take place through a lottery system.
Registrations forms received after March 7 will be placed on a wait list.
Students in the Spanish Bilingual program do not need to live within the school boundary. However, transportation is not provided for students that live outside the Coalbanks boundary. More information on the westside elementary boundaries can be found here: BOUNDARIES.
Students that do not get a spot in the Spanish Bilingual program and live in the Coalbanks catchment area, will automatically be registered in the English program.  
Lethbridge School Division prides itself on Kindergarten programs with an early-intervention and child-centred focus.