Posted on:
Victoria Park High School engaging students in learning-at-home model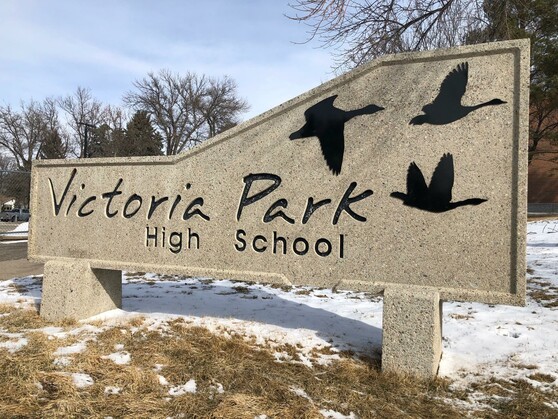 By Garrett Simmons
Communications Officer
Lethbridge School Division
The educational landscape shifted on March 16.
As Alberta made the move to a learning-at-home model, schools had to adjust. Victoria Park High School, for example, has tailored learning to the specific needs of the school's learners.
"We are working with every single individual and tailoring our delivery to meet their specific needs and to level the barriers that they may face in accessing learning," said Victoria Park principal Cayley King.
She added students are placed in advisor groups, where educators discuss the individual needs of students. From there, each teacher delivers lessons that are matched up to individual students.
Moodle, Microsoft Teams, live online help and email are just a few of the technology-based techniques teachers are utilizing to connect with students, along with more traditional delivery devices.
"We're still printing off materials and allowing for pick-up on Tuesdays," said King, who added student work is then submitted back in drop-off bin at the school.
Victoria Park maintains a daily drop-off service, where staff will meet students at their front door or drop off envelopes and leave learning materials outside.
Students are also scanning their work and sending it in through their phones, as work is constantly evolving to ensure students are getting the help they need.
"We are helping provide assistance through Teams, email, text, WhatsApp – you name the platform and that's what we're doing," said King.
There are students who may not have access to certain technology platforms, according to the principal, who added teachers have look for solutions in that area as well.
"We have set up YouTube channels for them and set up live chats for them, or we have gone to their homes. For kids that we know might not be able to reach out, we reach in," she said. "That is our main goal – connection, community and learning. We are constantly thinking about how we can maintain our community so that when we come back, it's all as seamless as possible."
Some students count on getting a call at a certain time of day, according to King, as educators do their best to reach out to certain students on prescribed days and times.
"We know that when responding to kids with trauma, predictability and consistency is very important. Some kids we talk to three times a day, because that's what they need."
But it's not all just academic connections and wellness checks that staff are engaged in. Online daily yoga, workouts to do at home and digital art classes are just a few other examples of how staff are reaching out. Option and Physical Education teachers are providing courses via live streaming, recorded sessions and online Moodle classes, along with distance learning courses. They are also providing paper packages for these courses for students who do not have access to technology.
Various staff members have chipped in to engage in the delivery and marking of distance learning core courses, in addition to their typical load. 
"This was done in an effort to ensure that we are meeting the individual needs of students, knowing that many of them will need extra/different supports now that they are learning from home," said King, who added staff are going above and beyond. "They are beautiful humans. They are doing everything and anything and have been incredibly innovative and positive. They're creative and dedicated."
In addition to that, counsellors and wellness teams at the school are just as busy as ever.
"For anyone needing support, they reach out to us and our wellness team reaches out to them in the way those students need it," said King.
Police and school resource officers are also conducting wellness checks on the students that teachers have been unable to speak with, and Child and Family Services workers are helping in that regard as well.
In terms of food security, King added the school is endeavouring to provide assistance to students.
"We have been delivering food to families like crazy. We're taking food and dropping it off at homes or giving out gift cards to families."
Victoria Park foods teachers are doing live online demonstrations to students, where the food made in school gets shared in the community. Through a partnership with Winston Churchill High School, fresh bread is also being delivered to families.