Posted on:
Telus makes donation to Weekends and More initiative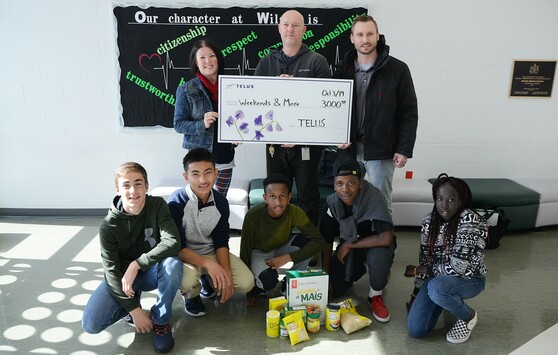 Thursday was a big day for the Lethbridge School Division Weekends and More program.
The program received a $3,000 donation from Telus, through the company's payday lottery initiative. Local employees contribute $3 per cheque to the community initiative, which sees funds dispersed throughout the community.
Anne Kish, the Making Connections worker at Wilson Middle School, said the donation will help create 60 food bags (WAM bags) for local families. 
Trustee Christine Light accepted the cheque, which was presented by Telus field support manager Matt Mosby and Telus field technician Darryl Onofrychuk.
Wilson Leadership 8 class students were also on hand to accept the donation. The students play a critical role in the creation of the WAM bags, as they select recipes for the bags, assist with the online shopping and help put the bags together.
WAM bags include a full family meal and recipe, along with a grocery store gift card.