Posted on:
Matt Brunner appointed vice-principal at G.S. Lakie Middle School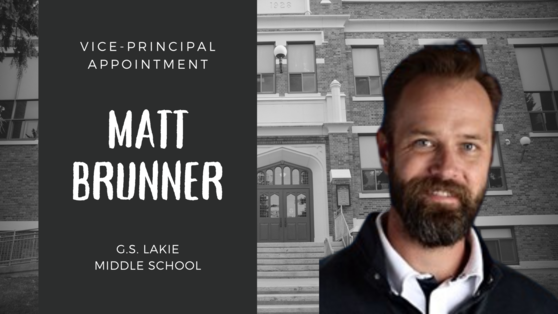 Lethbridge School Division is pleased to announce Matt Brunner has been appointed vice-principal at G.S. Lakie Middle School, commencing the 2022/2023 school year.
Brunner is a passionate educator who strives to create and facilitate meaningful learning and teaching opportunities. Placing value on the strength and power of collective vision, he believes collaboration among educators results in innovative and tangible learning experiences.
Brunner's leadership philosophy is centred on creating a safe learning environment where students thrive and are inspired as learners. He has demonstrated his strength as a people connector and models his belief that leadership practice begins with building relationships.
Students trust his genuine approach, parents view him as authentic and caring, and staff value his insight. He is a strong supporter of inclusion and values diversity. Brunner supports distributed leadership among students and staff.
He is enthusiastic and values school experiences provided to students outside of the regular classroom. Brunner is a strong contributor to building school climate and actively engages in providing opportunities for students. His current leadership role as Acting Vice-Principal and number of years teaching middle school affords Brunner the experience to collaborate with teachers in providing quality learning opportunities for middle school students.
He is an innovative educator able to engage all students in active learning. He supports parent and community engagement and seeks opportunities to involve parents in the life and culture of the school. "I am incredibly excited and honoured for the opportunity to join the leadership team at G.S. Lakie Middle School," said Brunner." "It will be a privilege to uphold the long-standing tradition of fostering meaningful relationships with students, families and staff. I look forward to working alongside the dedicated community at Lakie in supporting meaningful learning opportunities for all students and know that together, the positive connections we inspire are at the heart of developing life-long learners and empowered citizens. I am very fortunate to have the opportunity to collaborate and learn from the remarkable teachers at Lakie and am committed to providing a safe and encouraging learning environment for all students." 
Brunner started his 16-year teaching career in Lethbridge School Division as a Grade 4 teacher at Galbraith Elementary School. He has spent most of his time at Gilbert Paterson Middle School and has assumed responsibility as an Acting Vice-Principal at Paterson over the course of two years. This administrative experience and extensive knowledge of middle school students will serve the students and staff of G.S. Lakie well. 
Brunner completed his Bachelor of Arts and Bachelor of Education majoring in Kinesiology and CTS with the University of Lethbridge. He will be completing his Master of Education with the U of L in July.