Posted on:
Lethbridge School Division set to proceed with vaccination procedures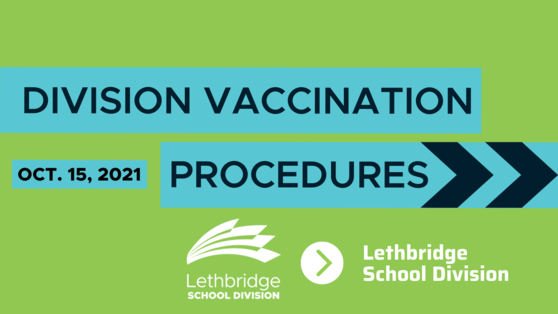 Beginning Nov. 1, 2021, Lethbridge School Division will require all employees to be fully vaccinated or provide an appropriate negative COVID-19 test to enter Division facilities.
On Thursday afternoon, the Board of Trustees, meeting as a Committee of the Whole, voiced support for the development of vaccine procedures for the Division as part of its commitment to provide a healthy, safe and caring environment in our schools and facilities.
"The safety and well-being of our students and staff have remained at the helm of all decision making throughout the pandemic," said Lethbridge School Division Board Chair Christine Light. "It is the Board's responsibility to ensure our schools are welcoming, caring, respectful and safe work environments. We care by protecting the vulnerable. We respect in how we dialogue and hold to an inclusive mindset. We ensure safety is never compromised. We believe this is an essential next step to ensure students and staff are protected moving forward, will allow for stability to in-class learning and will accommodate the choice of the individual. We thank our Division community for your continued support for student learning and well-being."
The Division's COVID-19 vaccination procedures will apply to all employees, substitutes, casuals, contractors, tenants, practicum students, volunteers and other approved guests. This requirement will be in addition to all current risk-mitigation measures outlined in the Division Re-Entry Plan.
Students will be exempt from the vaccine requirement. Parents are only exempt from these requirements if they are attending a Division facility for purposes clearly related to their child's education and in a setting where students are not present.
Exemptions may also be in place for those with specific medical or Human Rights accommodations.
Immunization is the most effective means to prevent the spread of COVID-19 and prevent outbreaks to help preserve in-person learning. Given the Division's responsibility to support the health and safety of students and staff, and the fact students under the age of 12 do not yet have the choice of vaccination, these procedures are another important risk-mitigation strategy.