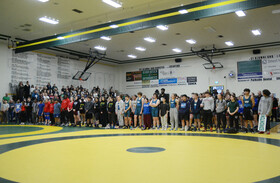 Two Lethbridge Collegiate Institute wrestlers earned gold at the 2023 ASAA High School Wrestling Provincial Championships on the weekend.
LCI played host to the two-day event, which was the largest wrestling event in provincial history.
Rams wrestler Nolan Gobeil was the provincial champion in the 120-plus kilogram category, while Ryder Lowry was the provincial champion in 90-kilogram category.
Thomas Ellis-Toddington was second in the 65-kilogram category, Solomon Prenevost took silver in the 68-kilogram category, Payton Sheilds was second in the 61-kilogram category and Tyler Saruwatari also won silver, this time in the 98-kilogram category.
Tamryn Bly took third in the 47-kilogram category.
Chinook's Reese Ferguson also earned silver in the 57-kilogram category.
Wrestling provincials