Posted on:
International keynote speaker, Bob Kittell, makes presentation at Wilson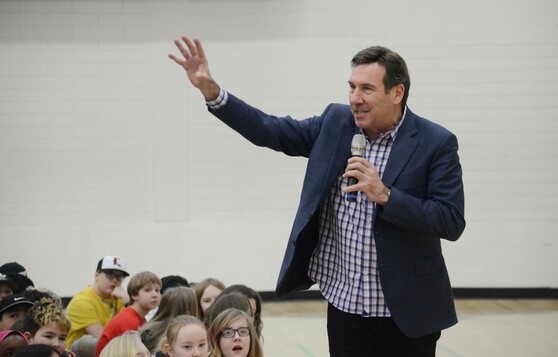 By Garrett Simmons
Communications Officer
Lethbridge School Division
Bob Kittell was a kicker with the Brigham Young University Cougars football team – a back up kicker.
Back in 1978, Kittell missed two field goals during a game against Arizona State, in a career that included one made field goal on three attempts and two extra points.
Now an internationally-renowned speaker, Kittell was at Wilson Middle School on Tuesday morning, as he told the story of how the Arizona State crowd roared in approval at his expense.
That experience could have torn him down, but Kittell now receives standing ovations of a different sort, as a featured speaker on the national Get Motivated tour.
Kittell told Wilson students they have the power to build up their peers instead of tear them down, as he relayed one way in which they could help.
"At the end of every day, send a text, note or letter to someone who could use it. When you take the time to do that, it lifts them and it lifts you."
Kittell speaks from experience, as his spirits were lifted by a 13 year old girl, when he was going through a traumatic period in his life. A diagnosis, which turned out to be incorrect, had given Kittell only one year to live. As he was reconciling that news, he was visited by a girl who was going through chemotherapy, who dropped off a batch of cookies and offered. She offered to speak with Kittell whenever he needed a little support.
"There is no such thing as a small act of kindness," said Kittell, who added even when faced with adversity, good things can happen. "When you are in a hard place, you might be in the middle of your next inspirational story."
Good things can also happen if we stick together, he said.
"It's easy to divide a community. Instead, be welcoming," said Kittell, who added hate, on the other hand, is something that is taught. "We can go father together than we can individually. Keep an eye out for each other."
Kittell also spoke about the power of a positive attitude. That's something he actually had to develop over time. He told students he was once afflicted with a negative bias, and as a result, he was a frequent complainer.
"I rewired my brain to not complain," said Kittell, as he gave students one way to help build a happier outlook on life. "Each morning, write down someone or something you are grateful for, and five reasons why."
Human connections are also key, according to Kittell, who added smartphones are distracting people more than ever, and hindering our ability to connect with one another.
"The most important person in the world is the person standing right in front of you," said Kittell.
He also told students to not be afraid to try new things, and take advantage of the opportunities presented to you.
"This is the best time of your life to try things and see what you are interested in."
Setting goals is also key, according to Kittell, and while you may not achieve every goal, it at least gets you moving in the right direction.
"Nothing happens if you sit still," he said. "If you are at least trying, people will open doors for you."
Kittell's presentation at the school was accompanied by a short talk from Jamie DeNovo, who was instrumental in bringing Kittell to Wilson.
Bob Kittell at Wilson