Posted on:
Early Education Program registration process will begin on Feb. 3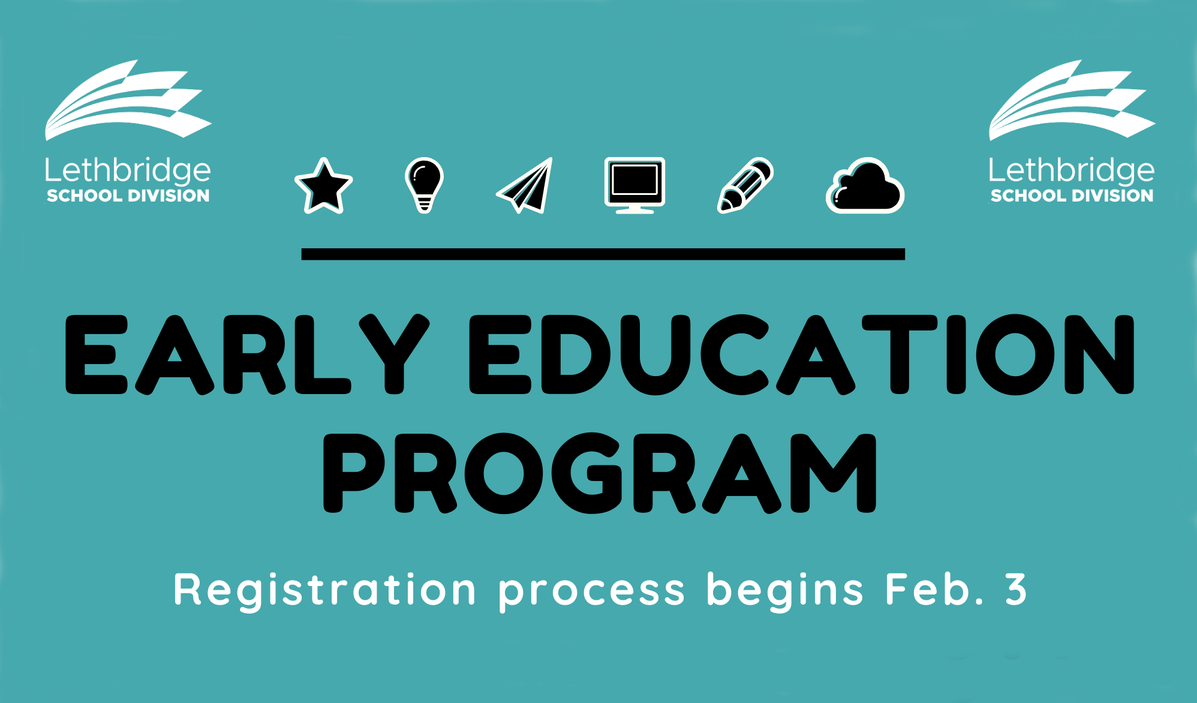 Lethbridge School Division is set to begin the process of registration for Early Education Programs for the 2020/2021 school year.
EARLY EDUCATION PROGRAM REQUIREMENTS:
(Children must be four years old as of Dec. 31, 2020 to be eligible for placement in a Monday – Thursday half day space (13 hours per week of programming)
(Children must be three years old as of Sept. 30, 2020 to be eligible for placement in a 2 half day/week space (6.5 hours per week of programming)
For north and south Lethbridge Early Education Programs, the intent to register process for children new to the school Divison begins on Feb. 3. Families will be accepted on a first come/first served basis, provided they have all the necessary registration requirements ($40 registration fee paid, proof of birth certificate/completion of form to get a birth certificate and showing some other legal document that provides proof of legal name and birthdate).
To complete the intent to register process for north and southside residents, please visit the school you would like your child to attend this fall.
For west Lethbridge, the expression of interest process for EEP will run from Feb. 3-28. This will be the same process as last year, with a lottery process to determine spaces at schools where there is not sufficient Early Education Program spaces to meet the demand. 
A family may complete an expression of interest form at any of the westside elementary schools, regardless of the school they hope to attend in west Lethbridge. Families have the entire month and have equal opportunity for spaces regardless of when their expression of interest is completed. Families will rate their preferences of the westside school sites from 1-4 on the expression of interest form. 
No registration forms will be completed at this time and no registration fees will be accepted during the expression of interest period. The order in which expressions of interest are received will have no bearing on eligibility for placement, provided they are received by Feb. 28. 
From March 3-6, drawing will occur for placement of children that have a completed the expression of interest for westside Early Education programs.
From March 9-27, families requesting west-side programs will be contacted regarding EEP placement. Families will then complete the registration process by March 27 at the school site where their child will attend EEP. This will include paying the $40 registration fee, providing the child's birth certificate and completing the registration forms. 
From April 1 onward, if families have not completed registration in westside schools, as a result of the lottery process, open spaces will become available to those on the waitlist.
The fee for four years olds attending four half days will be $185 per month. The fee for the three year olds attending two half days per week will be $95 per month.
If your child has diagnosed developmental delays, please inquire at your preferred school, or contact Lethbridge School Division Early Childhood Services co-ordinator Isabelle Plomp at 403-380-5291.