Posted on:
Division busy with a host of summer projects in preparation for the new school year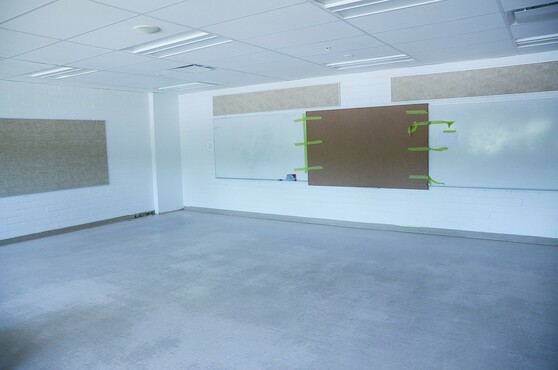 Lethbridge School Division is busy with a long list of summer projects, to ensure schools are ready to the 2019/2020 school year.
Projects on the go this summer include a classroom division at Gilbert Paterson Middle School, classroom enclosure and storage work at Coalbanks Elementary School and the construction of a concrete bike rack at Dr. Probe Elementary School.
At Westminster Elementary School, work continues on the ventilation and electrical upgrades.
Ventilation and electrical upgrades at Senator Buchanan Elementary School are also well underway, as air conditioning will be available to the second-floor at the school in time for the start of school. Classrooms on the second floor are also receiving facelifts, including brand new BrightLink Interactive Projectors, to replace the current SmartBoards.
Work on the main floor at Buchanan includes an enlargement project for the main office, along with electrical work. The school's main floor will eventually also receive air conditioning, as plans also include lighting and ventilation work in the gym and the installation of a glass wall in the school's learning commons, to convert it into a more modern space.
At all District elementary schools, BrightLink systems have replaced SmartBoards, as work will begin soon on BrightLink installations at the middle and high school levels.
Next week, work will commence on planting silver maple wishtrees at each District school, in honour of last year's One District One Book initiative, which featured the Katherine Applegate novel, Wishtree.
Other projects include work on the main stairwell and landings at Lethbridge Collegiate Institute, painting at Winston Churchill High School and cleaning, waxing and painting in schools throughout the District. Planter maintenance at Park Meadows Elementary School will also be accompanied by the planting of a few bushes to help spruce up the exterior of the building.
Regular and preventative maintenance jobs, along with plumbing work and boiler upkeep at a few schools, are just a few examples of some of the projects being done throughout the summer.  
The Lethbridge School District No. Education Centre is also on the list, as the Human Resources area at the head office is in the midst of renovation work.
Renovation work at Senator Buchanan