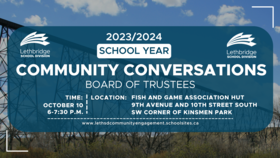 Community Conversations are time for parents, staff, students and the community to come together to have discussions with trustees. The event has no formal agenda, and is a time for trustees to hear from those attending about great ideas and successes, along with issues and concerns.
The next Community Conversations will be held Oct. 10 from 6-7:30 p.m. at the Fish and Game Association Hut (9th Avenue and 10 Street South, Southwest corner of Kinsmen Park).
The November date will be announced shortly.