Posted on:
Chinook Coyotes football standout signs on to play U Sports Football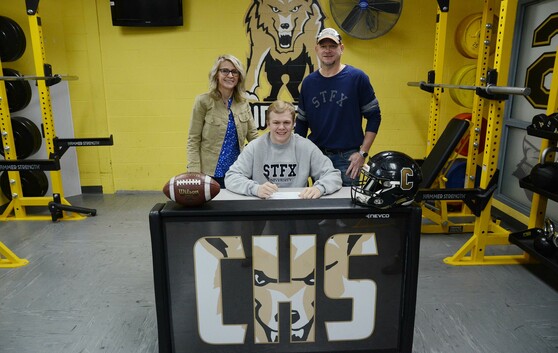 By Garrett Simmons
Communications Officer
Lethbridge School Division
It's not every day when a southern Alberta football product heads out east to play U Sports Football.
On Monday, Chinook High School's Chase Kehler signed a letter of intent to play at St. Francis Xavier University in Halifax in the fall of 2020.
The Coyotes senior was looking for an opportunity to play football at the next level, and the Halifax school answered the call.
"I sent my film to the St. FX coaches – I sent it everywhere just hoping a team would look for me, and they were really interested in me. The feeling seemed mutual and they wanted me and I want to go there."
Kehler added it was clear early in the process the X-Men coaching staff was impressed with the Chinook senior.
"They said I look like their OKG (our kind of guy), it's them saying it's their kind of player, and I fit their team mantra, and they said I was a captain in high school, won lots of awards, I'm an athlete and that's something they really like."
With his basketball season with the Coyotes now in full swing, Kehler is looking to make a visit out east sometime this spring. It will certainly be a change to pace for the southern Alberta product, who has never ventured east past Saskatchewan. He is trying to collect as much information about the Halifax area as possible.
"I've talked to a few people that have gone there. My parents know a few people and there was an athlete, Liam Hyland, he went there I think four years ago to play football and go to university there, so I'm following him I guess."
A new eastern address won't be the only change for Kehler, as he will also likely have to switch positions.
"In high school I was a running back and linebacker, but St. FX I think they want me at safety. I'm excited for it – make some big hits and see how it goes."
As Kehler put pen to paper on Monday, he had the support of several teammates who crowded into the weight room to witness his big moment.
"My teammates, they're really excited for me, and it shows that at Chinook we haven't had the best football program in the past years but it shows that if you work hard, go to the gym and give it your best you can do this."
Kehler is looking to study Human Kinetics in post-secondary school but while he's is looking forward to his U Sports playing career, he looked back at his best moment on the field in high school.
"Probably my biggest highlight of Chinook football was winning the Division "B" championship this year. Grade 10 it was a rough year, Grade 11 we were working our way up and then to cap it all off with a championship, it was a good way to go."
Nick Straat, Kehler's coach at Chinook, added he was proud to see all the hard work pay off for a player that has been one of his team's top players for a number of years.
"Chase has been a leader on our team for three years now since his Grade 10 year. He's a three-time MVP for our program, one of the hardest-working players I've ever coached and just has really good character."
Straat added Kehler took a big leap forward during the 2019 season.
"He was a great player in Grade 10 but especially on the defensive side of the ball he really took control this year. He was just incredibly dominant on the defensive side and we go to use him in multiple different ways just based on his progression through the years. He's a great tackler, great instincts."
The coach added seeing one of his players recruited at the U Sports level is a source of pride for Chinook.
"I think our program has been building the last few years for sure, so it's great to see some guys ready to have some success after high school as well. I think that sends a big message to our players right now that if you do put the time in and you do put in that work then good things can happen."
Straat is hopeful Kehler can make an impact at St. FX.
"On the defensive side of the ball he'll be great. He'll be great wherever he plays. He has great instincts and physically he's able to play at that next level."
As for next season for the Coyotes, Straat is hopeful for another solid season.
"We're losing a big chunk of seniors but we still have a lot of guys coming back, a lot of Grade 11s that played a lot of time this year so we're really excited for next year as well."
For a link to highlights from Kehler's senior season, please visit the following link: COYOTES.