Posted on:
Alice in Wonderland Jr. opens next week at Gilbert Paterson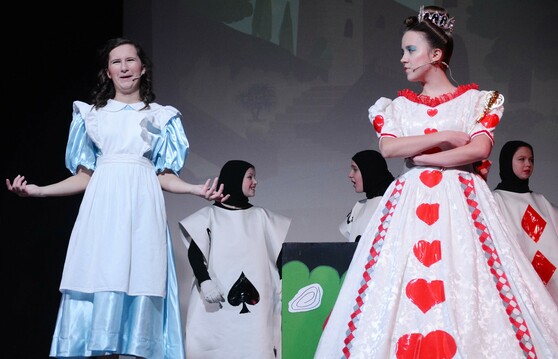 Gilbert Paterson Middle School students are bringing a magical production to the stage this month.
Alice In Wonderland Jr. has been a work in progress since September, as those involved in the play have put in a lot of hours the last few months.
"Students have been rehearsing twice a week since the last week in September right through to this week," said Paterson teacher Naomi Froese. "This play is the Jr. version of the Disney play, which simply means the play is shorter and there are a few variations from the movie."
Froese added audiences will be impressed with the work Paterson students have put in.
"The vocal talent and student work that has gone into this has been absolutely phenomenal."
Matinees open to the public are Wednesday Feb. 12, at 10 a.m. and 12:30 p.m. and evening shows begin at 7 p.m. sharp, with the house opening at 6:30 p.m. with rush seating. Tickets for evening shows are available on the Gilbert Paterson website via School Cash Online.
For matinee tickets, contact Froese directly at naomi.froese@lethsd.ab.ca.
Paterson's Alice in Wonderland Jr.