Posted on:
Senator Fairbairn's headdress on loan to middle school named in her honour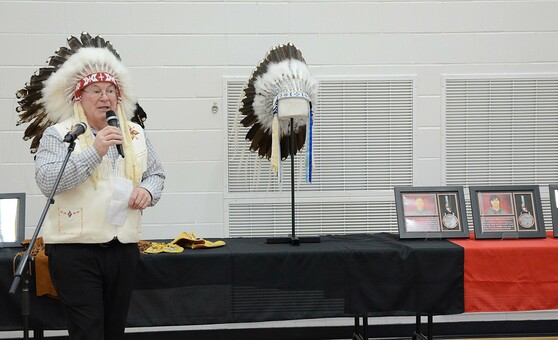 The Kainai Chieftainship is one of the most prestigious organizations in North America.
It was launched in 1919 and formally established in 1950. Its membership is limited to 40 living persons who have been made honourary chiefs of the Blood Tribe of southern Alberta.
Among its members is Senator Joyce Fairbairn, who was inducted in 1990, and given the name Morning Bird Woman.
Thursday morning at the school named in honour of the former senator, a special ceremony was held, as members of the chieftainship presented the school with Fairbairn's headdress.
The headdress will soon be housed inside a special display case at Senator Joyce Fairbairn Middle School.
Other members of the chieftainship include Charles, Prince of Wales, Pope John Paul II, Prime Minister Jean Chretien and author Pierre Berton.
At a provincial and local level, persons who have been directly involved in the business, economic and political life of the Blood Tribe have been recognized.
The history of the Chieftainship has been a significant one that reflects both the changing conditions over the years and the activities of those persons honoured by the Tribe.
Thursday's assembly also included the Medal of Honour Ceremony, as seven former students were honoured for their contributions to Fairbairn during the 2018/2019 school year.
Dylan Chartrand, Alex Darby, Spencer deKock , Blessing Diyaolu, Summer Fomradas, Rita Many Shots and Andrea Woods, who all currently attend Chinook High School, received their medals.
Each year, the medals are presented to students who exemplify the many meaningful and inspiring facets of the school's namesake.
Senator Joyce Fairbairn