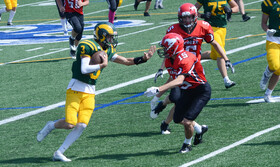 High school football season is underway here in southern Alberta, as Lethbridge School Division teams have already been busy.
The Lethbridge Collegiate Institute Rams opened the 2023 season on Aug. 25 against Harry Ainlay, and followed that up with a JV contest this week at the University of Lethbridge against Medicine Hat's McCoy.
LCI is back at the U of L on Sept. 2 to take on Bev Facey. The Rams will then head to Calgary to take on All Saints for a game at McMahon Stadium.
On Sept. 15, LCI will visit St. Francis for a game at Shouldice Park, before a Sept. 22 contest in Raymond.
Holy Trinity will come to town for a Sept. 29 game at the U of L, while the October schedule kicks off with a game Oct. 6 in Okotoks against Foothills.
On Oct. 16, LCI will play on Edmonton's Millwoods Turf against Fort McMurray, prior to a trip to the United States for an Oct. 20 date in Sandpoint.
The Chinook High School Coyotes play at Clarke Field in Edmonton on Aug. 31 against Austin O'Brien, and also have a Sept. 12 game in Lethbridge against Catholic Central.
A JV contest is set for Sept. 12 in Coaldale, while Sept. 15 features a trip to Taber to take on W.R. Myers. 
Sept. 22 will see the Coyotes visit Holy Trinity in JV and SV action, while Cardston will come to town on Sept. 29.
October's schedule includes a game on the 5th in Lethbridge against Winston Churchill High School, a JV game on the 10th against LCI and a contest in Lethbridge on the 20th against Willow Creek Composite High School.
The Winston Churchill High School Bulldogs play on Sept. 8 in Strathmore and on Sept. 15 in Cardson.
WCHS is back in action Sept. 22 at 5:15 p.m. at the U of L against Brooks, and wrap up September with a game in Claresholm on the 28th.
On Oct. 5, WCHS and Chinook will battle, while the Bulldogs have two more home games on the 13th and 19th against Catholic Central and W.R. Myers.
Football season