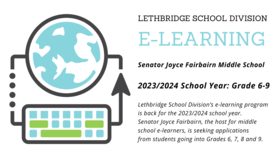 Lethbridge School Division's e-learning program is back for the 2023/2024 school year.
Senator Joyce Fairbairn, the host for middle school e-learners, is seeking applications from students going into Grades 6, 7, 8 and 9.
E-learning in Lethbridge School Division features quality instruction, choice and flexibility and ongoing daily interactions to ensure every student is part of a classroom community.
To learn more about e-learning, please visit the Fairbairn website and click on the e-learning tab at the top of the website.