Posted on:
RAP information night draws large crowd to Southland facilities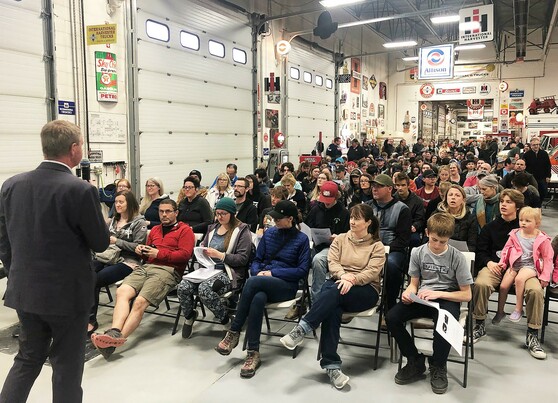 Thursday's Registered Apprenticeship information night was a tremendous success.
Over 150 students and parents attending the event, which was hosted by Southland Trailers and Southland International.
Lethbridge School Division's Off Campus Education Co-ordinator, Andrew Krul, led the evening, as representatives from Holy Spirit Catholic School Division's off campus educators, Alberta Industry and Training, Career Transitions and Lethbridge College were also in attendance, along with Lethbridge School Division Trustees Allison Purcell, Andrea Andreachuk and Tyler Demers.
To start the event, Southland Trailers hosted a quick tour of its newest plant, as the event then moved to the Southland International, where participants had an opportunity to view the largest collection of International vehicles in Western Canada.
The 22,000 square foot museum has over 60 vehicles dating from 1913-1982, and includes old signs, antique gas pumps and many other artifacts.
Thursday evening also included a presentation that outlined how the RAP program works, how students can become involved in the program, the trades that are in high demand and what employers are looking for in young employees.
Learn more about off campus education by visiting this link: 

OFF CAMPUS