Posted on:
New school year to begin Aug. 31 with first day of classes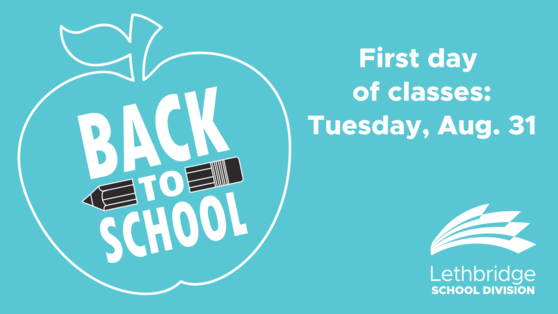 The first day of school for Lethbridge School Division students is fast approaching.
For the 2021/2022 school year, Tuesday, Aug. 31 is the first day of school. The full calendar for the new school year can be found here: CALENDAR.
The Division provides educational opportunities for students as young as three and four years old in our Early Education programs, all the way up to Grade 12 in our five high schools.
For information on the Early Education Program, and the online Building Brains Together - At Home initiative, click here: EEP.
Kindergarten registration is also underway throughout the Division. More information on that process can be found here: KINDERGARTEN.
Students new to Lethbridge School Division can pre-register by using the form on this page: PRE-REGISTER.
Students returning to the Division for the 2021/2022 school year should have received a registration package from their school.
The Division is also offering E-Learning for elementary, middle school and high school students. More information on that program can be found here: E-LEARNING.
Please note, school office will open to the public on Wednesday, Aug. 18. A list of our school can be found here: SCHOOLS.
As for COVID-19 measures which will be in place for the new school year, Lethbridge School Division will take the new information released Aug. 13 and continue to develop our re-entry plan for the 2021/2022 school year. Our re-entry plan will be released later this week, after the Division carefully reviews the COVID-19 protocols released by Alberta Education.
For a link to all of the information released on Aug. 13 by Alberta Education, click here: PROVINCIAL GUIDANCE.
Alberta's 2021/2022 School Year Plan, released in June of 2021, can be found here: SCHOOL YEAR PLAN.