Posted on:
Pierre Legal appointed vice-principal at Gilbert Paterson Middle School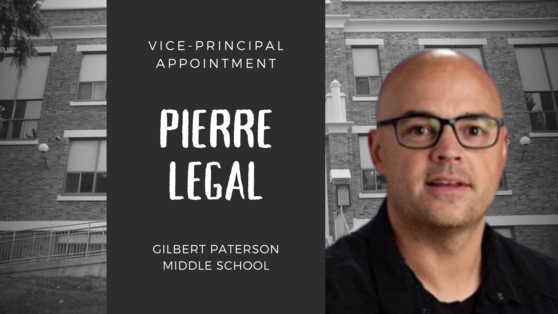 Lethbridge School Division is pleased to announce Pierre Legal has been appointed vice-principal at Gilbert Paterson Middle School, commencing the 2023/2024 school year.
Possessing a breadth of teaching experience from Grade 4 to high school, Legal is most passionate about igniting the desire of students to learn at middle school. His belief in the relevance, rigor and exploration that project-based learning affords adolescents serves as a strong foundation as an instructional leader. He works with strength-based assessment to understand where students are at with their learning and recognizes the importance of differentiating to move students forward. Legal considers relationships as key to working with students and growing with colleagues. Highly relational and enthusiastic, students and colleagues gravitate to him. He embraces the power of partnering with other teachers, families and support services to meet the needs of students.
Committed to a learning community characterized by learning and continual improvement, Legal recognizes the unique nature of adolescents and the importance of engagement. A member of the Paterson school community for six years, Legal brings an understanding of the school context and strong support for the rich variety of exploratory options and extra-curricular experiences for students.
"I am both grateful and incredibly thrilled to be able to further my work with the amazing students and staff of Gilbert Paterson Middle School as a new member of the administration team," said Legal. "I look forward to continuing to develop strong partnerships with parents and the school community in order to provide an inclusive learning environment that fosters positive self-esteem, kindness, respect and maximizes student achievement and growth."
A French Immersion teacher for 18 years at the elementary, middle and high school levels, Legal has a strong understanding of transitions. He as leadership experience as an acting assistant principal at École Agnes Davidson as well as acting vice-principal at Gilbert Paterson. 
He supports his profession as a member of different learning communities and is an active community member as a volunteer and coach.
Legal graduated from the Université Saint-Boniface with a Bachelor of Arts and a Bachelor of Education. He earned his Professional Master of Education with an emphasis on Leadership and Literacy Education from Queen's University.