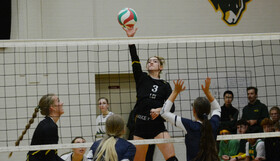 Lethbridge Collegiate Institute is hosting another edition of the Green and Gold Volleyball Tournament.
Play kicked off this morning as the LCI Clippers took on Cardston at 9 a.m. LCI's Rams will face Winston Churchill High School at 10:30 a.m.
The Clippers will be back on the court at 4:30 p.m. against Henry Wisewood, while the Rams take on St. Francis at 2:15 p.m.
The Rams play a third game today as well, at 5:30 p.m. against Joane Cardinal. 
Playoff action begins tomorrow at 8 a.m., as four matches will take place early in the morning at LCI and in the Catholic Central East Gym.
The girls championship match is set for 5 p.m .and the boys final will go at 6:15 p.m. 
The entire schedule can be found here: GREEN AND GOLD.
Green and Gold