Posted on:
FNMI High School Graduation Ceremony and Celebration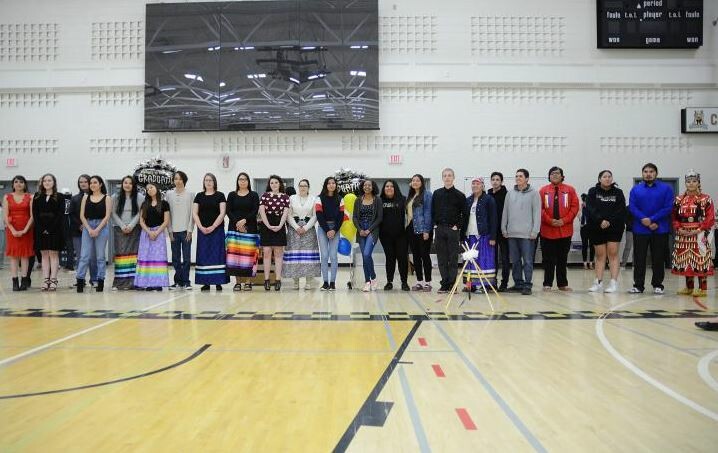 By Garrett Simmons
Lethbridge School District No. 51
Communications Officer
It was an inspiring evening for 50 Lethbridge School District No. 51 students.
The First Nations, Metis and Inuit High School Graduation Ceremony and Celebration Thursday evening at Chinook High School featured keynote speaker Julian SpearChief-Morris, who graduated from Harvard School in 2018.
SpearChief-Morris was joined by Miss Blackfoot Canada 2019 Selena Medicine Shield, FNMI advisor Jean Philistine Old Shoes and Blackfoot elder Bruce Wolf Child, along with traditional dancers and drummers, as graduates from Chinook High School, Lethbridge Collegiate Institute, Victoria Park High School and Winston Churchill High School were recognized.
"I want to congratulate all the graduates on the incredible achievement of graduating high school," said SpearChief-Morris, in his keynote address. "I hope you take the time to celebrate yourselves and all of the things you have already accomplished, before heading on to whatever it is you are going to do next."
The Harvard-educated SpearChief-Morris, who graduated from LCI, added the educational journey for the 50 District FNMI graduates will continue, long after high school.
"You give me a lot of hope for the future but you should know, I have very high expectations for all of you."
With that, SpearChief-Morris outlined three major takeaways from his speech, for students gathered for Thursday's graduation ceremony.
"The first takeaway is, you should always live your life with purpose. The second takeaway is, you should never stop learning. And, the third takeaway is, always, always challenge yourself," he said. "They may sound like clichés but I promise you that they are things that I try to live by, and I honestly believe they are things I credit as helping me go from where I was as a young kid to somebody now that has his head screwed on mostly straight."
That is a huge understatement, as SpearChief-Morris was the first indigenous student to lead the prestigious Harvard Legal Aid Bureau, an organization founded in 1913 to provide legal services to low-income clients in the Boston area.
SpearChief-Morris told the audience the freedom to learn is a privilege, and added the opportunity to pursue an education at Harvard simply would not have existed for him, had he been born a generation earlier.
Thursday's ceremony not only included an inspiration keynote from SpearChief-Morris, but also featured a feathers presentation to FNMI graduates and a sashes presentation to Metis graduates, along with an Inuit gift presentation to Inuit graduates.