Posted on:
Chinook athletes looking forward to post-secondary careers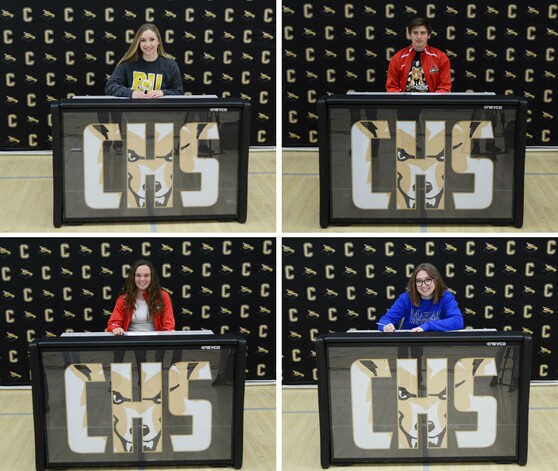 By Garrett Simmons
Lethbridge School Division
Four students from Chinook High School are set to continue their athletic careers at the post-secondary level next season.
Friday morning, Brantley Saar and Angelina Ellis-Toddington officially signed on to wrestle for the University of Calgary U Sports program. Tielle Hagel, another U Sports athlete, put pen to paper to join Brandon University's volleyball team, while Abbie Froom singed on the dotted line to golf at the NCAA Division 3 school Marian University Wisconsin.
"I've always loved Brandon," said Hagel about her opportunity to join the Bobcats. "I've known the coach there for quite some time."
Hagel added joining Brandon's program has been a long-time goal of hers, as the opportunity to play in a similar-sized city as her hometown of Lethbridge held great appeal.
"I love the program there, the coach is great and the environment there is amazing."
She added the past year has been a difficult one, as the COVID-19 pandemic has robbed her of her senior season of volleyball at Chinook.
"It's been super difficult. It's been difficult for everyone but for athletes, it's been very difficult for recruiting," said Hagel, who added she used the last year to train and get stronger.
As for what next year could bring on the floor, it's a little too early to project how she may be utilized in Brandon.
"I'm a setter but I can also hit, so I may be a bit of a utility player," said Hagel, who added she was extremely thankful for the support of her high school coaches and teammates, and how it prepared her for her next volleyball opportunity. "It's a great sport and I'm so lucky to continue on with my sport at the U Sports level."
For Saar, wrestling for the Dinos has been a dream of his ever since he first hit the mat. In fact, the sport has been Saar's main source of personal motivation ever since middle school.
"I started when I was in Grade 8 and it's been my driving factor ever since then."
With a strong love for the sport, the 2020/2021 season has been different, as wrestling competitions across the province were cancelled.
"It's been really tough," said Saar. "I haven't wrestled another person in a year."
Virtual camps and individual workouts have been the name of the game, as Saar has been doing whatever he can to prepare for a U Sports wrestling career where the competition will be ratcheted up.
"It's going to be like every finals match I've ever competed in, but at another level."
Fellow U of C wrestler, Ellis-Toddington, is equally enthusiastic about suiting up for the Dinos next season.
"I was super excited," she said about getting the offer to wrestle in Calgary. "It was where I wanted to go."
A wrestling career that started in Grade 4, where she grappled mainly with her siblings, has progressed into a spot on a university team, where Ellis-Toddington's skills will be put to the test.
"It's going to be more competitive, and people are going to be specializing a lot more."
The past year has challenged Ellis-Toddington, as the wrestler has been forced to shift from a typical routine of coach-directed practices, to figuring things out on her own.
Virtual camps, one-on-one power lifting and building up her strength and stamina are just a few ways the Chinook senior has tried to prepare herself for U Sports wrestling.
That preparation, coupled with years of experience wrestling in Lethbridge, has her confident about the next stage of her career.
"Lethbridge has been great. It's so nice to see the program grow here every year. It's also great to see more girls come out to wrestle."
For Froom, COVID-19 has presented its own challenges, even though golf courses have stayed open throughout much of the pandemic.
The golfer was able to take part in last summer's McLennan Ross Alberta Junior Tour and a junior academy at Henderson Golf Club, but that was pretty much it for competitive play.
"It's very important," said Froom about her opportunity to compete on the tour. "I need to be able to stay active and improve."
Her game has improved in a short period of time, to the point where Froom achieved a goal she really didn't think was possible.
"I never really thought I was going to have this opportunity because this is really only my third or fourth year of competing," said Froom, who added she started playing the game competitively a little later than most kids.
But she jumped at the chance to join the Marian University team next season, even though she has not had the opportunity to see the school or meet her coach in person.
Froom added she is keeping track of the scores of her Marian University teammates, and is finding her game very comparable to theirs.
As for her strengths on the course, Froom's game starts with her driver, where she can go 240-250 yards off the tee.
Chinook athletes