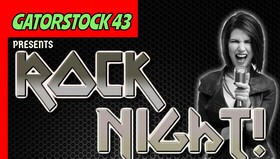 On Tuesday, March 21, G.S. Lakie Middle School will be rocking!
Gatorstock 43 will take over the G.S. Lakie Convertible Theatre for two shows, at 6 p.m. and 7:45 p.m.
Lakie musicians will be joined by the Gilbert Paterson Middle School Rock Band for an evening of music that will also include local bands Rat Salad and Syd Vicious.
Tickets are $5, and can be purchase through SchoolCashOnline.