Posted on:
Sept. 30 is National Day for Truth and Reconciliation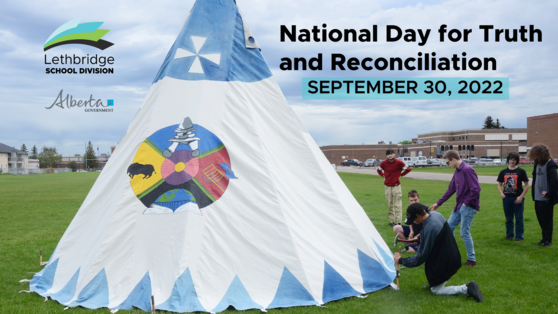 Please see the following message from Adriana LaGrange Minister of Education
The National Day for Truth and Reconciliation is coming up on Sept. 30.
On this federal holiday, Albertans are being encouraged to make special efforts to acknowledge the histories and legacies of residential schools, and to honour the survivors, their families and communities. Alberta's government recognizes the significance of this day and its alignment with Orange Shirt Day, an Indigenous-led grassroots movement that carries a very important message: that every child matters.
The Alberta government is committed to walking the path of reconciliation together with Indigenous peoples, and commemorating the tragic and painful history and on-going impacts of residential schools is a vital component of this process. As unmarked graves of former residential school students continue to be discovered across Canada, we must acknowledge the truth of our shared history. Reconciliation-related initiatives in our schools and communities can help Albertans recognize the painful legacy of residential schools and understand how we can come together to offer a better future for all. Throughout this month, I encourage Albertans to support Orange Shirt activities.
Like last year, Alberta Education is also providing funding for resources and events offered by the Alberta Regional Professional Development Consortia and the National Centre for Truth and Reconciliation. Both organizations are offering free, pre-recorded online content for teachers, students and school leaders, as well as opportunities to attend in-person events. Resources will be available in both French and English and will continue to elevate the truths shared in 2021.
I also encourage Albertans to visit the Education for Reconciliation webpage to view recent and ongoing initiatives that support reconciliation by including First Nations, Métis and Inuit perspectives and experiences throughout Alberta's education system.
The National Day of Truth and Reconciliation is recognized by the Alberta Protocol Office as a half-mast day. Schools in Alberta may also lower flags to half-mast from sunrise until sunset in recognition.