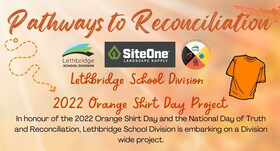 In honour of Orange Shirt Day and National Truth and Reconciliation, Lethbridge School Division is embarking on a Division-wide project.
Site One Landscaping has graciously donated a rock for every student in the Division to put towards the Pathways to Reconciliation project.
On Sept. 29, schools will come together to create their own rock Pathway to Reconciliation. The Indigenous Education Teacher team will be providing resources and lesson ideas to support learning about Orange Shirt Day and reconciliation. 
Every student in the Division will receive a rock which they will place in an agreed-upon space on their school grounds. The idea is for all schools to create either a Pathway to Reconciliation, a word or an image relating to reconciliation or Indigenous culture.
Rocks will be delivered on Sept. 12-13 to all schools.
The Division thanks Site One Landscaping and South Safeway for the much-appreciated donations for this project.