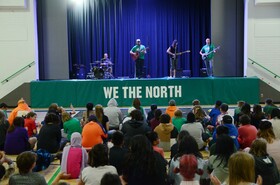 On Tuesday afternoon, Grade 6 students at Wilson Middle School were treated to a performance from the Cody Hall Band. 
Music was just part of the assembly, as students learned about the Wilson Way and took in a number of other details on their first day at their new middle school.
The afternoon wrapped up with games inside the gym. 
Wilson's assembly also included a description of the school's fundraising initiatives for 2022/2023. 
Wilson unveiled the 2022 school fundraising campaign, and as such is asking students, staff and the school community to celebrate the Wilson Family and the Wilson Way by selling wallet-sized coupon/deal cards.
From Sept 6. to Oct. 12, students are selling the cards for $20 each. A total $9.50 from each sale comes directly back to the school. Funds raised will be used to cover the costs of tech initiatives, outdoor activity equipment and school field trips/experiential education experiences. 
All stores and businesses are listed on the card itself, here is a list of the businesses and deals on the cards, which can be purchased online here: CARDS.
Contact Wilson Middle School at 403-329-3144 for more information.
For a link to the parent letter, click on the following link: FUNDRAISING.
First day at Wilson!