Posted on:
High school graduation ceremonies planned throughout Division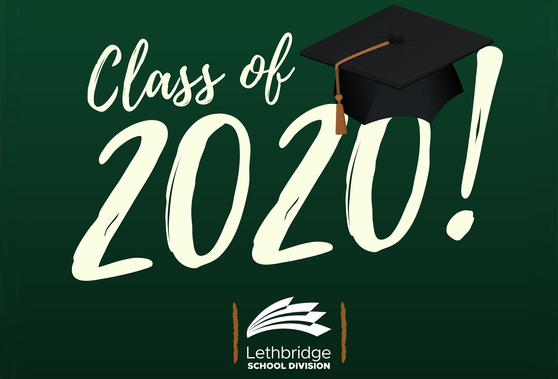 Schools throughout Lethbridge School Division are set to celebrate the graduating class of 2020 in a series of unique and creative ways.
Graduation events will kick off Friday, June 19, as Chinook High School will host a drive-in-style convocation in the school's west parking lot. Chinook's grad class of 280 will be split into five groups, which will rotate through a 30-minute ceremony. Chinook staff also plan to drop off a custom box of graduation keepsakes to graduates. 
June 20 will feature the Lethbridge Collegiate Institute ceremony, which will include a car processional around the school. One vehicle per family will have the opportunity to cruise around LCI, with a prescribed route, as students will also receive a commemorative grad booklet.
Winston Churchill High School's Virtual Graduation will be held June 25 with a grad video customized for the class of 2020. Churchill staff also plan to deliver grad-in-box packages to each graduate, which will include a cap and gown, grad pin, commemorative grad certificates and other keepsakes. Grad-in-a-box packages are set to be delivered sometime before June 19.
On Friday, June 26, Immanuel Christian Secondary School is hosting a drive-in graduation in the Trinity Reformed Church parking lot. Graduates and their families will have assigned parking stalls, as the ceremony will include a speech by the principal and the valedictorian, which attendees can tune into via their vehicle stereos.
Victoria Park High School staff will visit the front yards of each graduate, and will deliver graduate gift boxes, which will include a graduation certificate, cap and tassel and additional personalized notes and messaging. Each grad will also have a short tribute read to them by their advisor.
All graduation events are being held with approval from Alberta Health Services, as the safety of students, their families and staff is of paramount importance.